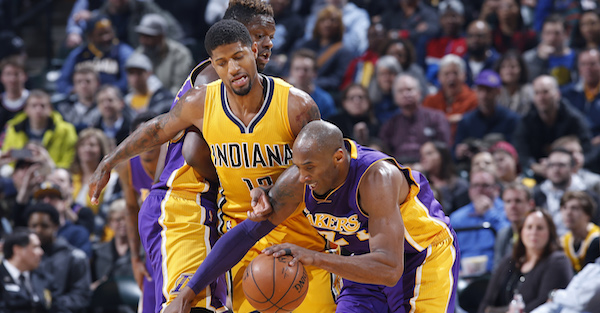 Joe Robbins/Getty Images
INDIANAPOLIS, IN - FEBRUARY 8: Paul George #13 of the Indiana Pacers defends against Kobe Bryant #24 of the Los Angeles Lakers in the first half of the game at Bankers Life Fieldhouse on February 8, 2016 in Indianapolis, Indiana. NOTE TO USER: User expressly acknowledges and agrees that, by downloading and or using the photograph, User is consenting to the terms and conditions of the Getty Images License Agreement. (Photo by Joe Robbins/Getty Images)
Paul George is an NBA All-Star, but his free agency standing in the summer of 2018 may force the Indiana Pacers' hand.
According to Adrian Wojnarowski of Yahoo! Sports, the Pacers are looking into deals on both sides — adding talent around George or preparing for a rebuild around center Myles Turner.
"There's no urgency to make a deal for George, unless the Pacers fear the Boston Celtics could ultimately provide Indiana the best possible package of assets in a deal – and think that option could disappear if Boston makes a deal with Chicago for Jimmy Butler.

For teams considering a trade for George, here's the risk: As a free agent in the summer of 2018, he has considered re-signing with Indiana or joining his hometown Los Angeles Lakers, sources tell The Vertical."
Later reports from USA Today detailed George has privately spoken to ownership that he wants to stay if they can contend for a title.
As team president Larry Birds seeks players to help George, he is also reportedly considering the option of moving the star forward. According to the report, Los Angeles Lakers executive Magic Johnson is already trying to pry George away.
The report also details that George "would love nothing more than to sign with his hometown Lakers i the future is bleak in Indiana," when he becomes a free agent.
That might be present reservations for the Celtics to move for George if there are no guarantees he will re-sign.
Stay tuned as we count down to the final day of the NBA trade deadline.