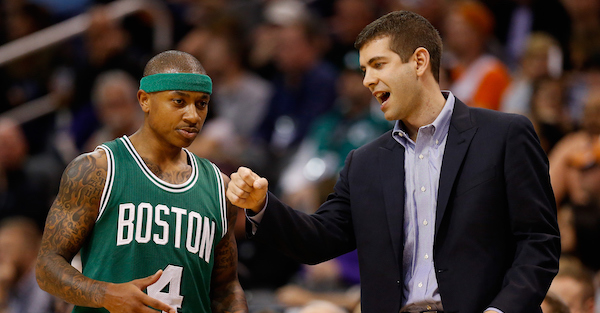 Christian Petersen/Getty Images
PHOENIX, AZ - FEBRUARY 23: Head coach Brad Stevens of the Boston Celtics talks with Isaiah Thomas #4 during the second half of the NBA game against the Phoenix Suns at US Airways Center on February 23, 2015 in Phoenix, Arizona. The Celtics defeated the Suns 115-110. NOTE TO USER: User expressly acknowledges and agrees that, by downloading and or using this photograph, User is consenting to the terms and conditions of the Getty Images License Agreement. (Photo by Christian Petersen/Getty Images)
The Boston Celtics are reportedly in talks with the Philadelphia Sixers on a trade involving the No. 1 overall pick:
If Boston's infatuation with Josh Jackson is true, it would take pressure off of the Celtics to take consensus No. 1 selection Markelle Fultz.
Whether this is a decision based on Boston's thinking of Fultz, starting point guard Isaiah Thomas, or simply that continuing to get picks will allow the Celtics the ability to slow build as the Golden State Warriors and Cleveland Cavaliers remain on top is unknown.
It certainly would be a blockbuster deal for the Sixers, who have slowly trusted the process in building a roster around young, budding stars. A roster around the likely pick of Fultz, Ben Simmons, Jahlil Okafor, Joel Embiid and Dario Saric certainly seems promising.
According to ESPN, Fultz, Lonzo Ball, Josh Jackson and De'Aaron Fox are in play for the top selection, regardless of who holds it.