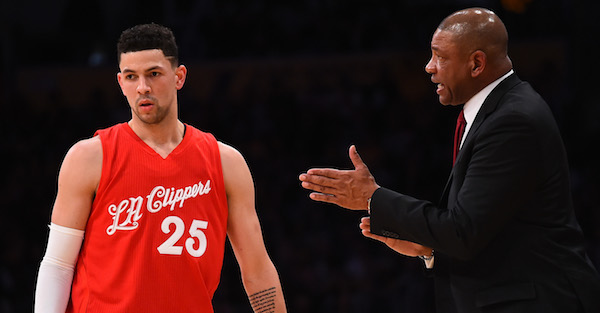 Jayne Kamin-Oncea/Getty Images
LOS ANGELES,CA - DECEMBER 25: Head coach Doc Rivers of the Los Angeles Clippers talks to Austin Rivers #25 of the Los Angeles Clippers in the second half of the game against the Los Angeles Lakers at Staples Center on December 25, 2016 in Los Angeles, California. The Los Angeles Lakers won 111-102. NOTE TO USER: User expressly acknowledges and agrees that, by downloading and or using this photograph, User is consenting to the terms and conditions of the Getty Images License Agreement. (Photo by Jayne Kamin-Oncea/Getty Images)
Doc and Austin Rivers had some quality father-son bonding time after both were ejected during the first half of the Los Angeles Clippers' 140-116 loss to the Houston Rockets Friday night.
Related: One person was hospitalized following car accident involving Clippers center DeAndre Jordan 
Austin Rivers was ejected after he bumped into official J.T. Orr with under seven minutes to play in the first half. He yelled at Orr and had to be escorted off the floor by a Clippers employee after the ejection. He had to be held back by the employee from going back onto the court.
https://www.youtube.com/watch?v=U3fhqvzlUhQ&feature=youtu.be&a
Doc Rivers was ejected after complaining about a call involving Marreese Speights. Speights was awarded free throws when he shouldn't have been, and Rivers complained to head official Jason Phillips.
"When they threw Austin out for whatever reason, they called an and-1 on that," Doc Rivers said. "You can see it on the replay, they absolutely called an and-1 and they forgot to give us a free throw. So I called a timeout and said, 'Hey, you forgot to give us a free throw,' and they didn't know what we were talking about. And I said, 'No, you forgot to give us a free throw. Come on, you guys don't know what you're doing,' and that was it."
Mike Woodson took over as coach after Rivers was ejected. Doc said his son was fairly ejected from the game.
"They'll say he made contact, which he did, but it wasn't intentional, which is clear," Doc Rivers said. "You can't judge intent; that's why they will say there was contact, but there's nothing you can do about it. I felt bad for him, [but] that's not why I was thrown out. I was thrown out for a different reason."
Austin, however, defended his actions to reporters after the game.
"I saw the video," Austin Rivers said. "I didn't do nothing wrong. I didn't do anything wrong. I reacted to the play; I had no idea the ref was there. I was backing up and I said, 'Call the foul.' When I did it, I was turning and he was right there and my elbow touched him. I've never in my career put my hands on a ref, and I don't ever plan to. He knows if I would have pushed him; he would have pushed back [but] he didn't go anywhere. I didn't mean to touch him. As he was giving me a tech, I was trying to tell him I didn't mean to do it. I didn't do anything wrong — I stand by that I didn't do anything wrong."
This was the third time this season Doc Rivers has been ejected. Both he and Austin were ejected during a game against the Washington Wizards on Dec. 18.
(h/t ESPN)