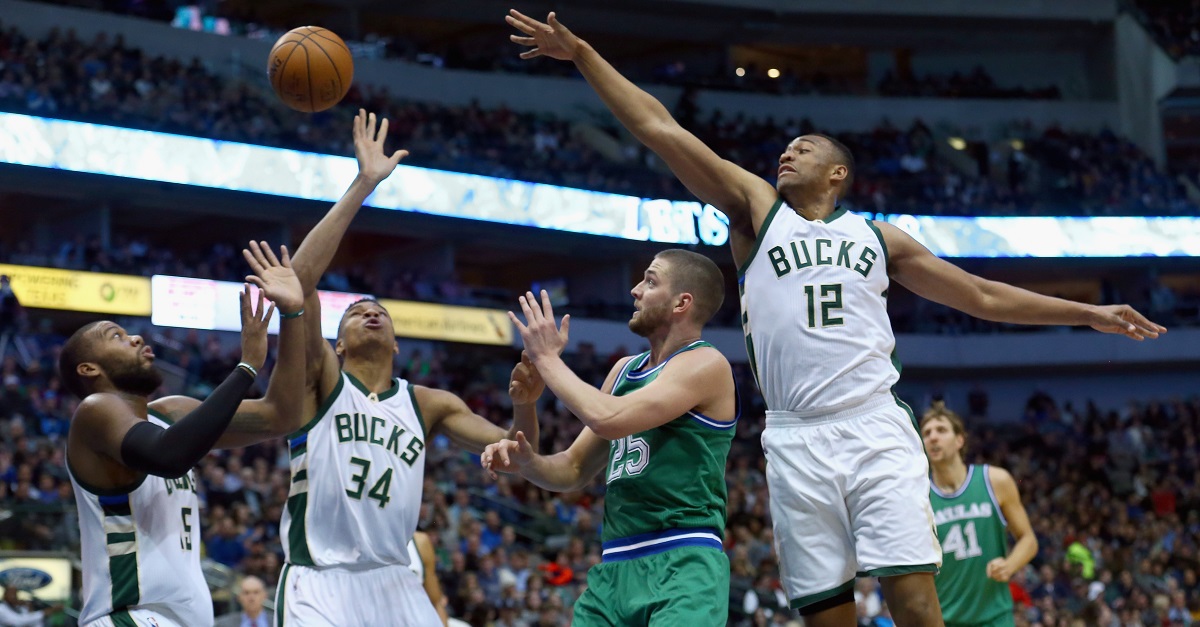 Tom Pennington/Getty Images
DALLAS, TX - DECEMBER 28: Chandler Parsons #25 of the Dallas Mavericks shoots the ball against Greg Monroe #15 of the Milwaukee Bucks, Giannis Antetokounmpo #34 of the Milwaukee Bucks and Jabari Parker #12 of the Milwaukee Bucks in the first half at American Airlines Center on December 28, 2015 in Dallas, Texas. NOTE TO USER: User expressly acknowledges and agrees that, by downloading and or using this photograph, User is consenting to the terms and conditions of the Getty Images License Agreement. (Photo by Tom Pennington/Getty Images)
The Milwaukee Bucks and Giannis Antetekounmpo have agreed to a new contract extension according to The Verticals's Adrian Wojnarowski. Antetekounmpo is eligible for his rookie class of 2013 extension and the Bucks might have gotten a steal with a four-year, $100 million extension.
RELATED: Milwaukee Bucks become longest and tallest team ever with No. 10 pick
The 21-year old phenom can play and guard every position on the floor and is a matchup nightmare for everyone he faces. While there were plenty of guys out signing max deals, there were few that truly deserved them, but Antetekounmpo might be the exception as he has drastically improved his scoring each year as well as his playmaking abilities — he upped his assists and rebounding averages the last two seasons as well.
He was selected with the 15th overall pick in the 2013 NBA draft and averaged 16.9 points, 7.7 rebounds. 4.3 assists and 1.4 blocks in 80 games last season. He is also playing with some other young exceptional talent in Jabari Parker, John Henson, Khris Middleton, Miles Plumlee and new draft picks Malcolm Brogdon and Thon Maker.
[h/t Yahoo Sports]