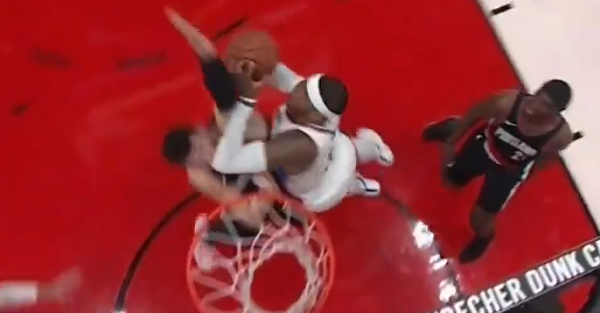 @cjzero/Twitter
@cjzero/Screenshot
Oklahoma City Thunder forward Carmelo Anthony was ejected from Sunday night's game against the Portland Trail Blazers after being assessed a Flagrant 2 foul.
Anthony is seen on the play driving toward the basket in the third quarter and finishing through contact, but appeared to hit Blazers center Jusuf Nurkic in the face with his elbow. After review, Anthony was hit with a Flagrant 2 foul and ejected from the game.
Following the game, NBA crew chief Rodney Mott said in a pool interview that Anthony was assessed a Flagrant 2 foul because they deemed the move Anthony made as "unnatural" and "excessive."
"We deemed that the contact was excessive and that it was not a natural basketball move where he seeks out Nurkic, hits him in the face with an elbow and goes back to the basket," Mott said. "So because it's unnatural and it's deemed excessive, therefore it is a flagrant foul penalty two."
Immediately following the play, Twitter blew up with criticism on the call after many believed Anthony didn't deserve to be ejected.
The NBA reviews technical and flagrant foul calls and it seems likely that Anthony's Flagrant 2 foul should get rescinded. The Thunder would go on to lose the game 103-99 without Anthony in the lineup and fall to 4-5 on the season.