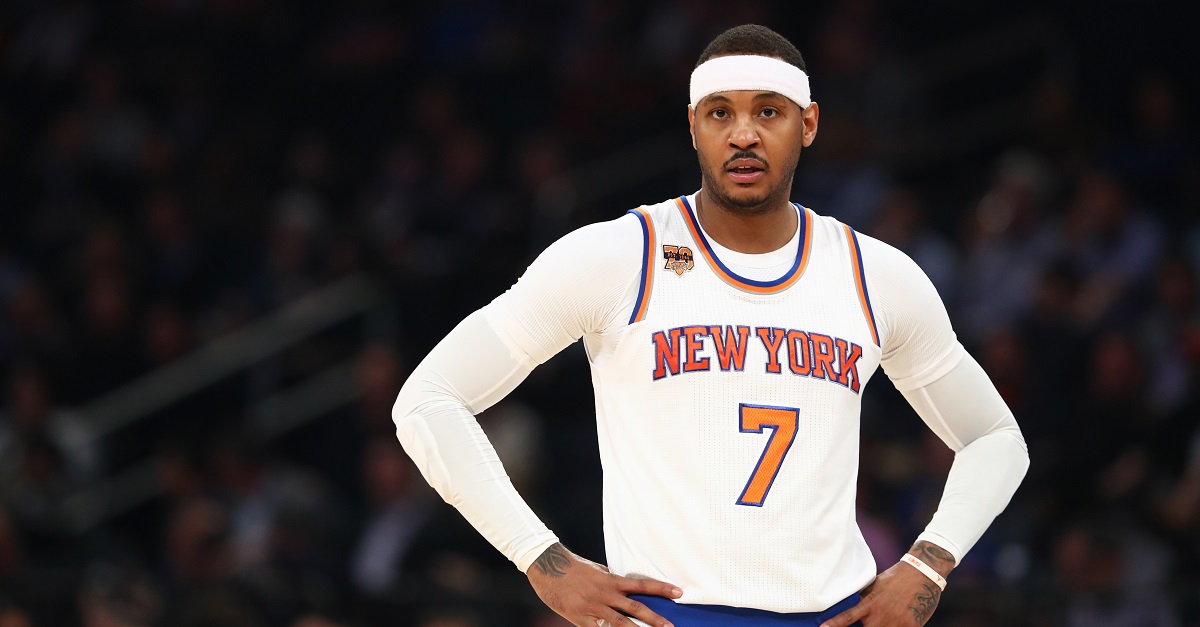 Al Bello/Getty Images
NEW YORK, NY - FEBRUARY 27: Carmelo Anthony #7 of the New York Knicks looks on against the Toronto Raptors during their game at Madison Square Garden on February 27, 2017 in New York City. NOTE TO USER: User expressly acknowledges and agrees that, by downloading and/or using this Photograph, user is consenting to the terms and conditions of the Getty Images License Agreement. (Photo by Al Bello/Getty Images)
Carmelo Anthony has been one of the big names on the NBA trade block this offseason, but when push comes to shove there's really only one place the six-time NBA All-Star would like to be. That's bad news for the New York Knicks because he reportedly has no intention of remaining in New York long-term.
In a recent SportsCenter segment, ESPN NBA Insider and resident "WojBomb" dropper, Adrian Wojnarowski, had this to report regarding Anthony and the Knicks — as transcribed by Ryne Nelson of slamonline.com.
"Carmelo Anthony has made it clear to [the Knicks]: I want to go to Houston, I am not interested in talking to you about being reincorporated back into this New York roster." […]

"Houston is now prepared for the fact that these negotiations with the Knicks could run through August, September, into possibly the start of training camp as New York tries to rebuild Melo's value."
That's a blow to the Knicks if New York did indeed want to move forward with him as the star of the franchise.
Wojnarowski reported on Monday that Anthony would waive his no-trade clause for Houston or Clevland, but the Rockets have started to become a priority for him so that he could play with Chris Paul and James Harden. So outside of those two, and not considering draft picks, would New York really be able to get much back for Anthony in a straight-up trade with Houston?
Of course, multi-team deals are always possible, but either way, Wojnarowski made it clear that there's no short-term solution to this problem. These trade talks could lead right up to the beginning of NBA training camps, and ultimately, Houston has the leverage in this negotiation. If the Rockets don't get 'Melo, they'll still be just fine with the tag team of Paul and Harden. If the Knicks can't get rid of Anthony, though, they'll be entering next season with a player who doesn't want to be there.
More troubling for New York is the fact that they may enter next season with a player who's in the last year of his contract, so if the Knicks can't get anything of value back for Anthony, they may not end up with anything at all.
(H/T Bleacher Report)