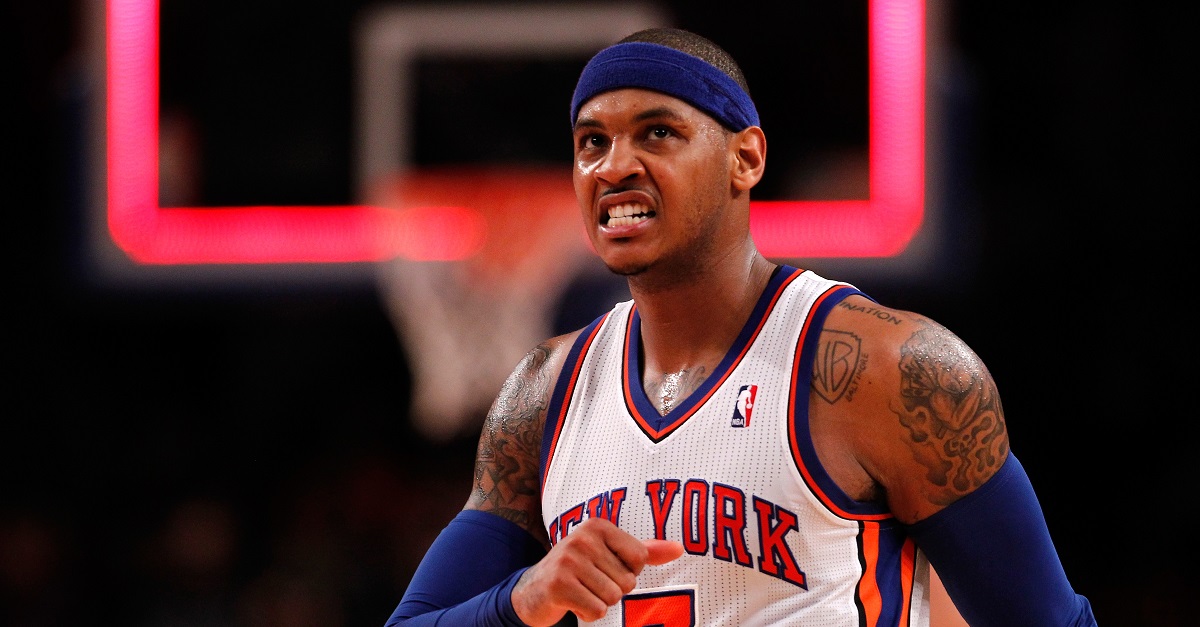 Jeff Zelevansky/Getty Images
NEW YORK, NY - MAY 06: Carmelo Anthony #7 of the New York Knicks reacts in the second half against the Miami Heat in Game Four of the Eastern Conference Quarterfinals in the 2012 NBA Playoffs on May 6, 2012 at Madison Square Garden in New York City. NOTE TO USER: User expressly acknowledges and agrees that, by downloading and or using this photograph, User is consenting to the terms and conditions of the Getty Images License Agreement (Photo by Jeff Zelevansky/Getty Images)
Word broke on Saturday afternoon that it is the Oklahoma City Thunder, not the Houston Rockets or Cleveland Cavaliers, had the inside track to acquire Anthony and things moved from there.
First, it was reported as "serious talks" between the two teams.
Then, specifics came together.
Then, there was that pesky issue of a no-trade clause for Anthony.
Finally, Adrian Wojnarowski of ESPN broke the news that the deal is reportedly done.
This is not, by any stretch, an overwhelming return for the Knicks, but Anthony holds quite a bit of leverage given the presence of a no-trade clause. Still, it appears he will be willing to do so in order to land in Oklahoma City alongside Russell Westbrook and Paul George.
With Anthony on board, the Thunder become a terrifying offensive team with three big-time scorers and, on the defensive end, Oklahoma City was already geared up to be quite good. This likely isn't enough to unseat the Warriors at the top of the West but, if this deal happens, the Thunder will be a lot of fun to watch.