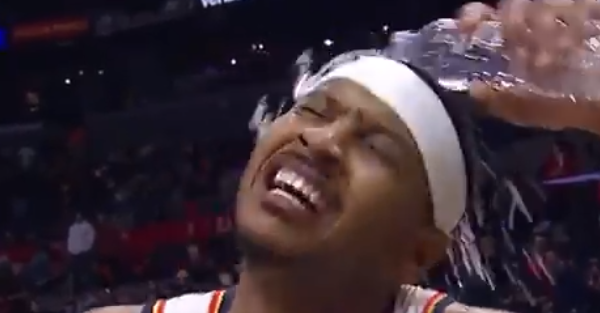 Twitter/@DefPenHoops
Twitter/@DefPenHoops
After pulling out a 127-117 win over the Los Angeles Clippers on Thursday night, Oklahoma City Thunder forward Carmelo Anthony dropped a very NSFW message during a live TV interview.
But Anthony was provoked after teammate Russell Westbrook poured some water on his head and the result was every reporter's worst nightmare:
Anthony finished the game with 22 points on 9-of-12 shooting from the floor to help the Thunder to their second consecutive win and their eighth win in 10 games. Following the game, some teammates had fun with Anthony's slip on live TV:
As the players may have had a good laugh about it, those involved with the broadcast were surely not laughing about it.