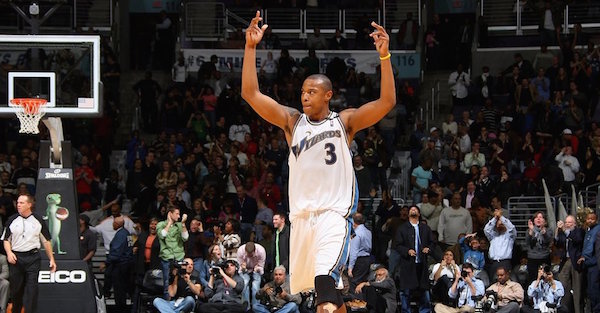 @ABC7Sports/Twitter
@ABC7Sports/Twitter
NBA veteran forward Caron Butler officially announced his retirement in a column entitled "Sixteen Years, Nine Teams, One Love" for the Players' Tribune on Wednesday.
In the piece, Butler reflected on his entire career, showing gratitude to the people who shaped his playing career.
"Playing in the NBA was a dream — I got to spend 16 years with all of these great teammates and coaches. It was better than I ever could've imagined. I may be retiring from the game, but I'll stay close to it. I'll be around it in some form or another.

"I just want you all to know that I had the time of my life, and that you helped make that possible."
Butler was a two-time All-Star in 2007 and 2008 as a member of the Washington Wizards, his third of nine NBA teams. The veteran forward referred to his time in Washington it "some of the best years" of his life and called the city his "second basketball home."
"For the next six years I'd be a Wizard, an All-Star and have some of the best years of my life, playing with Antawn Jamison, Brendan Haywood, and this kid named Gilbert Arenas, who was ballin' all over the place — and he wasn't even calling himself Hibachi yet," Butler wrote. "I'll always remember how much the people in D.C. loved that team — L.A. and Miami were great cities to play in, but Washington was where I spent the majority of my career, and the place I will always consider my second basketball home."
Butler, who won an NBA championship with the Dallas Mavericks in 2011, finished his career with 12,430 points (14.1 per game), 4,387 rebounds (5.0) and 2,007 assists (2.3).