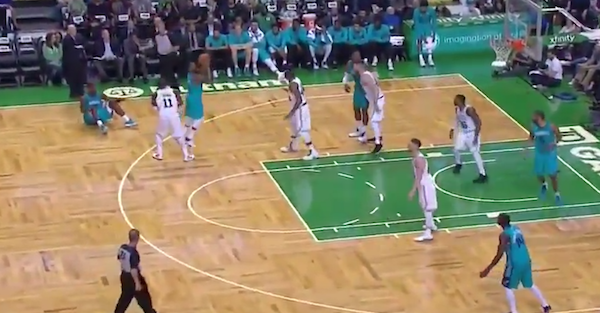 @Kroeger/Twitter
Twitter/@Kroeger
They say professional athletes typically having anywhere from 7 percent to 10 percent body fat. So, logically, you can gather that many of them are pretty ripped.
Sure, there are some who skew the range a bit ? Glen Davis, C.C. Sabathia, Damon Harrison, etc. But a lot of them are just built … so built you wish those "get six-back abs in 10 minutes" videos really worked.
Well, Aron Baynes is definitely leaning toward the lean side of the spectrum. At 6-foot-10, 260 lbs Baynes certainly isn't out of shape. And former Celtics forward and current commentator Tommy Heinsohn awkwardly made it known on live TV that he thinks the current Boston big man is quite impressive … physically.
We've heard of guys pranking each other in the locker room before, but this is so far beyond normal behavior ? especially because Heinsohn isn't on the team.
Don't look now, but it feels like the Celtics' announcer is developing a Michael Scott-Ryan Howard crush before our very eyes.
In all seriousness, though, we'd like to just pretend that Heinsohn meant something completely different. But it's pretty difficult to interpret that in any other way than one grown man watching another grown man shower before bragging about his physique to the Boston Celtics faithful.
The question is: do you think Baynes knew?