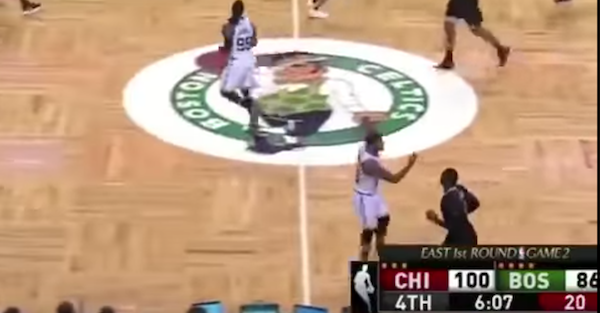 YouTube Screen Shot
The No. 1 seed Boston Celtics are down 2-0 to the No. 8 seed Chicago Bulls, and Celtics players are understandably frustrated.
During a 111-97 loss in Game 2, Boston guard Marcus Smart missed a 3-pointer and flipped off a fan in the crowd.
https://www.youtube.com/watch?v=9xXpyhN9U0s
Related: Charles Barkley ripped Isaiah Thomas for crying on the court before an NBA playoff game
The NBA has fined Smart $25,000, according to a statement released by the NBA.
According to ESPN, Celtics coach Brad Stevens said the gesture was "unacceptable."
"I saw a brief video clip of it but, from my clip, from the angle that I saw, I couldn't tell," Stevens said in a conference call. But obviously if he made a gesture, it's unacceptable, and that will be handled by the league."
The Celtics are down 2-0, and now they will be forced to climb out of their hole on the road in Chicago. Game 3 of the series is slated for Friday, April 21 at 7 p.m. on ESPN.
(h/t NBC Sports)