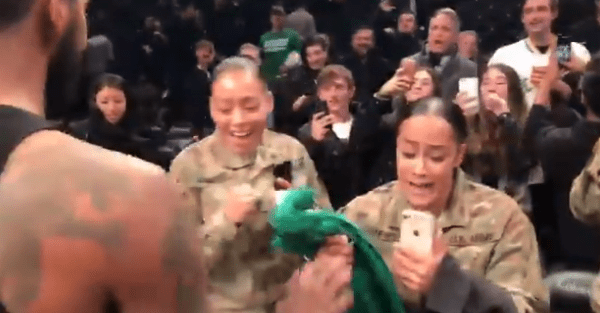 @NBA/Twitter
@NBA/Twitter
After leading the Boston Celtics to a 109-102 win over the Brooklyn Nets on Tuesday, Kyrie Irving made a tremendous gesture to a couple of members of the military that were courtside for the game.
It was a great moment for Irving and the NBA to see its star player giveaway his game-worn jersey and shoes to members of the military. The two were understandably quite excited to receive Irving's gear following the game.
The shoes Irving wore on Tuesday were a specially-designed pair to pay homage to his late mother. His mother passed away when he was four years old and he has honored her with numerous shoes over the years. Irving has given away tons of jerseys and pairs of shoes away before. He gave away his shoes to a kid in Philadelphia earlier this season and even signed the shoes as well.
Tuesday's game was the first in which Irving played with a protective mask on his face after suffering a minor facial fracture when he was hit by teammate Aron Baynes on Friday night against the Charlotte Hornets. Irving missed Sunday's game against the Toronto Raptors due to the injury, but returned on Tuesday seemingly unaffected by the mask.