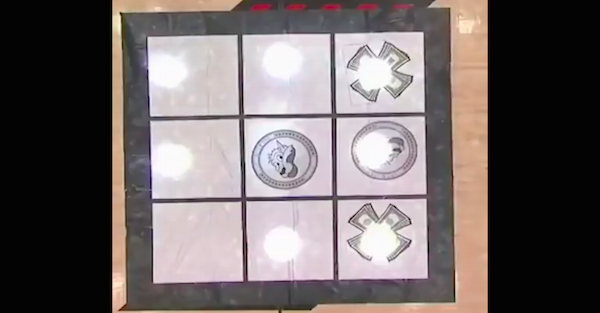 @BarstoolBigCat/Twitter
@BarstoolBigCat/Twitter
Arguably the worst game of tic-tac-toe took place during halftime of the Charlotte Hornets-Portland Trail Blazers game on Thursday.
Given the setting, the game included a basketball theme in which two participants shot layups for the right to use their respective "x" and "o" pieces. But what they did with said pieces was remarkably bad.
Among the hilarity, both participants wasted several opportunities to eliminate their opponent, which included one player putting her "o piece" over her opponent's already placed "x piece".
There's two ways to look at this. On one hand, you've got to assume it's much more difficult to pay attention to the board while balancing shooting a basketball, running down the court and placing a giant piece several times over in front of tens of thousands of people.
On the other hand, it's a game most of us figured out how to play in Kindergarten, so placing your piece on top of one that's already put down while leaving your opponent to capitalize on an easy win is unacceptable.
You've got to love the internet for providing us with this golden content such as this.