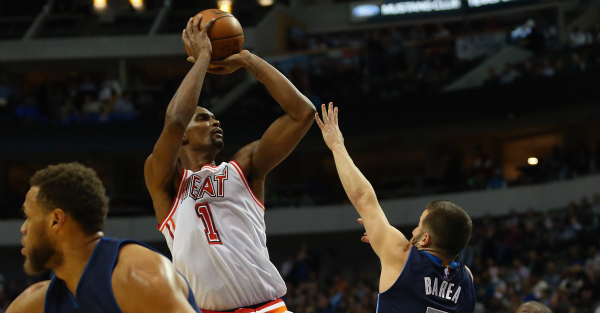 Multiple reports have surfaced night that Miami Heat forward Chris Bosh has potentially suffered a serious complication beyond just a calf strain — which kept him out of the All-Star Weekend festivities. Bosh suffered a blood clot last season that kept him out of the final 30 games of the season. Bosh's agent informed the Miami Herald it was "too soon" to report that Bosh had developed another blood clot.
Bosh missed Sunday's All-Star game with a strained calf and returned to Miami for additional tests. A person in touch with the Heat's front office said a worrisome problem surfaced Monday, beyond merely a strained calf. Another source said his life was not at risk.
Asked directly if Bosh had been diagnosed with a blood clot in his calf, agent Henry Thomas responded by text: ?Too soon for all of that?. Too soon to report that.? The Heat did not comment.
However, Sheridan Hoops reported that the situation may be worse than people initially thought.
Losing Bosh to a season-ending injury could spell serious trouble for the Heat as the team has failed to truly gel so far this season and there could be more instability on the way. The Heat might be making moves at the trade deadline and that could mean some more unknowns that the Heat would have to deal with this season.