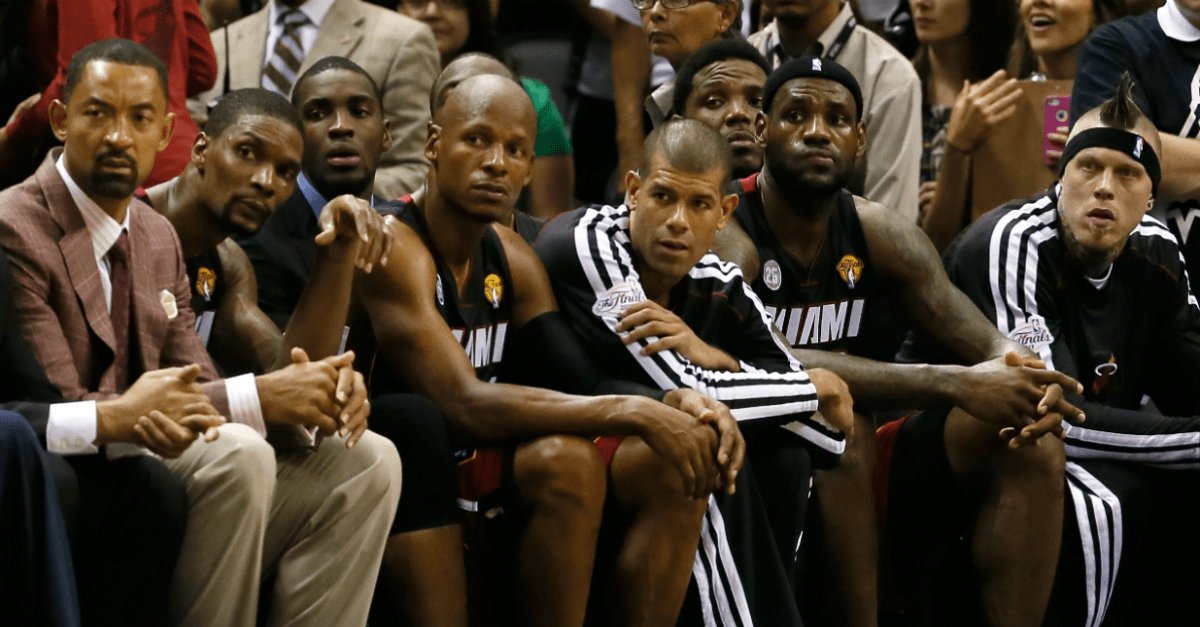 Kevin C. Cox/Getty Images
SAN ANTONIO, TX - JUNE 16: (L-R) Juwan Howard #5, Chris Bosh #1, Ray Allen #34, Shane Battier #31, LeBron James #6 and Udonis Haslem #40 of the Miami Heat sit on the bench late in the fourth quarter while taking on the San Antonio Spurs during Game Five of the 2013 NBA Finals at the AT&T Center on June 16, 2013 in San Antonio, Texas. NOTE TO USER: User expressly acknowledges and agrees that, by downloading and or using this photograph, User is consenting to the terms and conditions of the Getty Images License Agreement. (Photo by Kevin C. Cox/Getty Images)
Chris Bosh, an 11-time All-Star, wants to make a comeback for an NBA contender.
Bosh, 33, has been sidelined ever since Heat team doctors declined to clear him to take part in training camp — after he missed the second half of the previous few seasons due to blood clots. It has been mostly reported that the clots would prevent him from ever being cleared to play again.
Bosh last played in a game on Feb. 9, 2016.
During an appearance on ESPN's First Take, however, Bosh not only expressed his desire to return to the NBA, but that his medical condition isn't all that serious.
?I?ve been in the gym,? he said. ?I can still play basketball. No. I?m not done yet. Yeah, I?m trying to come back. Man, I see all these guys shooting 3?s and not playing defense, and, man, I?m saying I?ve got to get some of it.?

?Medicine is like law. That I?ve come to find out,? Bosh told ?First Take? on Thursday. ?It?s very gray area. Some people say yes. Some people say no. Usually it?s about what the majority agrees to, and usually sometimes it?ll take somebody to kind of have some revolutionary plan or something like that. I?m not going to be in a position where I?m risking my life, so if I ever get back on the court like that and people are worried, it?s not going to be a life-risking situation.?
There is a set time for his proposed return to the league.
?Next season, yeah,? Bosh said of his comeback plan. ?The roster spots haven?t been filled this season yet, so it?s always a possibility.?
In all seriousness, hopefully Bosh is healthy enough to play. If not, someone talks him out of this.