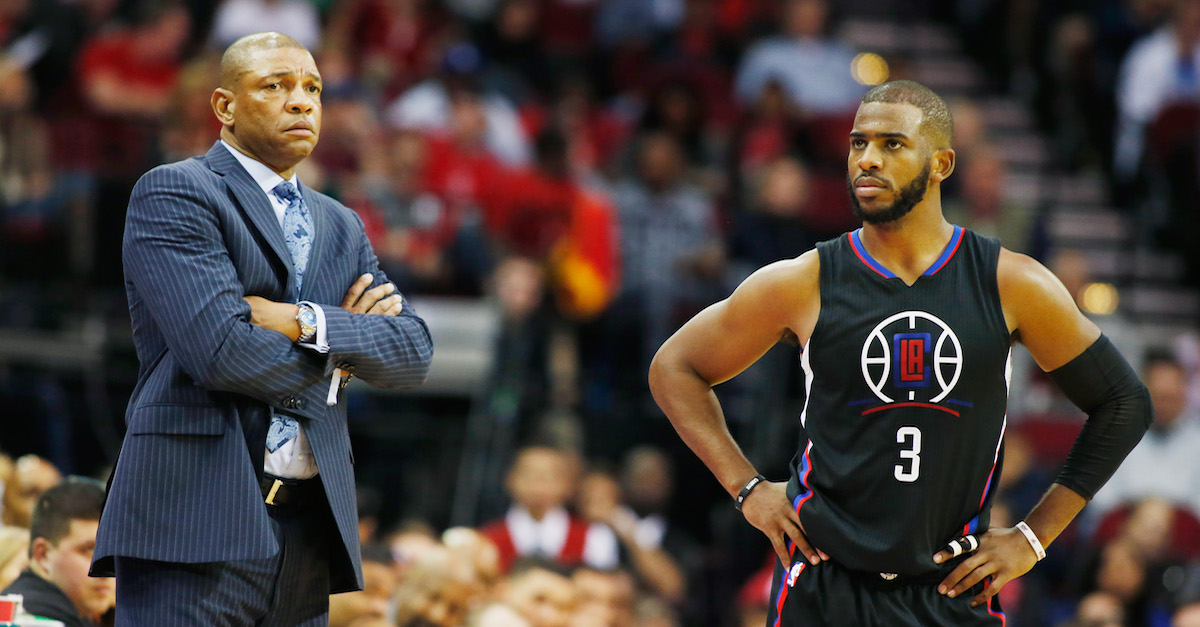 Scott Halleran/Getty Images
HOUSTON, TX - DECEMBER 19: Head coach Doc Rivers of the Los Angeles Clippers and Chris Paul #3 wait near the bench during their game against the Houston Rockets at Toyota Center on December 19, 2015 in Houston, Texas. NOTE TO USER: User expressly acknowledges and agrees that, by downloading and or using this Photograph, user is consenting to the terms and conditions of the Getty Images License Agreement. (Photo by Scott Halleran/Getty Images)
With free agency right around the corner, speculation that Chris Paul could leave the Los Angeles Clippers and create another super team in San Antonio is beginning to gain traction.
The latest news details just how serious of a threat San Antonio may be:
This comes following Zach Lowe?s podcast, where ESPN?s Kevin Arnovitz suggested the only team he could see Paul leaving the Clippers for is the Spurs. Lowe continued and called the prospect of it happening ?real.?
Paul is expected to exercise his Early Termination Option, where he?ll become a free agent and could ink a long-term contract this summer.
The 32-year-old Paul would have the option of inking a five-year, $205 million deal in Los Angeles or a four-year, $152 million deal elsewhere.
The nine-time All-Star would certainly be one of the most sought after free agents should he decide to hit the open market. But at his age, he?ll have to make a decision on what franchise gives him the best opportunity to win a title and how that affects the money he takes.
At this point, does the prospect of playing for Gregg Popovich and next to LaMarcus Aldridge and Kawhi Leonard instead of next to Blake Griffin and DeAndre Jordan under Doc Rivers really make that much of a difference in the long run?
After watching the first half of the Spurs-Golden State Warriors series before Leonard went down, you?d have to argue he could give the Spurs a real chance.