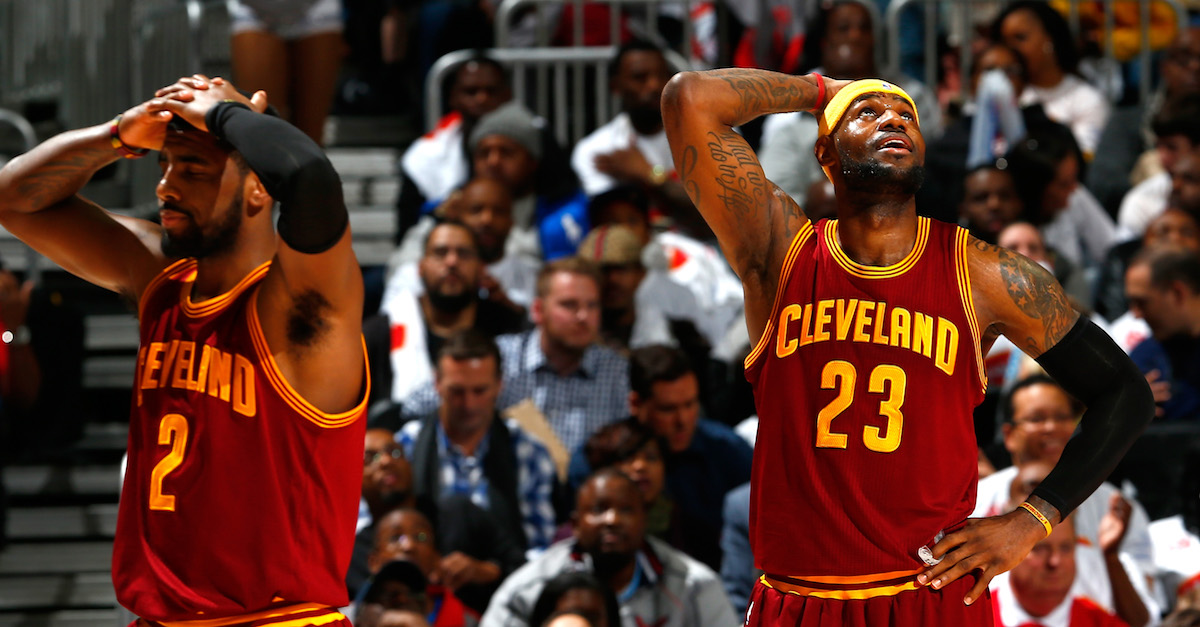 Kevin C. Cox/Getty Images
ATLANTA, GA - MARCH 06: LeBron James #23 and Kyrie Irving #2 of the Cleveland Cavaliers react after a foul was called on J.R. Smith #5 during the game against the Atlanta Hawks at Philips Arena on March 6, 2015 in Atlanta, Georgia. NOTE TO USER: User expressly acknowledges and agrees that, by downloading and/or using this photograph, user is consenting to the terms and conditions of the Getty Images License Agreement. (Photo by Kevin C. Cox/Getty Images)
The Cleveland Cavaliers are reportedly engaged in trade talks with the Boston Celtics and they are centered on Kyrie Irving and Isaiah Thomas for the Celtics.
Irving was the No. 1 pick back in the 2011 Draft, and he has been a vital part of the Cavs since James originally left Cleveland back in 2010. James came back to Cleveland in 2014, and Irving really emerged as a top-tier No. 2 option as the Cavs were able to win their first title in 2016.
Irving averaged 25.2 points and 5.6 assists for Cleveland last season. He is a four-time All-Star and was the 2011-12 Rookie of the Year.
---
Kyrie Irving-LeBron James beef:
Reports surrounding the relationship between LeBron James and Kyrie Irving has devolved into something nasty since news broke of the latter requesting a trade.
James took to Twitter to clear the air:
"Beat his ass"
ESPN's Stephen A. Smith reported on his podcast about the issues between James and Irving (H/T B/R):
"If Kyrie Irving was in front of LeBron James right now, LeBron James would be tempted to beat his ass," the source told Smith.
The situation has only gotten worse since the bombshell was dropped that Irving had requested a trade from the Cavaliers.
Irving's request
According to Brian Windhorst of ESPN, All-Star point guard Kyrie Irving reportedly asked the Cavaliers to trade him.
Windhorst went on to say that LeBron James was ?blindsided and disappointed? by the request.
"The request came last week and was made to Cavaliers owner Dan Gilbert. Irving has expressed that he wants to go play in a situation where he can be a more focal point and no longer wants to play alongside LeBron James, sources said."
Irving interested in four teams
ESPN sources told Chris Haynes that Irving told the Cavs he prefers to be traded to the New York Knicks, Miami Heat, San Antonio Spurs or Minnesota Timberwolves.
Irving reportedly made the request last week to Cavaliers owner Dan Gilbert and expressed that he wants to play in a situation where he can be more of a focal point and that he no longer wants to play alongside LeBron James, according to ESPN?s sources.
James leaked the trade request?
According to Smith, Irving's camp believes James leaked the trade request, via Complex:
"According to my sources, they believe LeBron James had everything to do with news getting out that Kyrie Irving wants to be traded, because Kyrie Irving and his representation and others met with the Cavaliers a couple weeks ago, and not a word got out until recently."

"They believe that LeBron James got word of it, and was put off by it, and leaked it. I'm not going to accuse LeBron of such a thing, I don't know that to be true at all, but I know that's what Kyrie Irving believes. The mere fact that he has that question, says it's time to move on."
James has a no-trade clause
James may be leaving the Cavaliers this summer, but that doesn't mean he'll bounce on anything other than his terms. According to ESPN, James won't waive his no-trade clause no matter what:
"No matter the reconstruction of the Cleveland Cavaliers' roster, no matter the potential for heightened inner turmoil, no matter the win-loss record, and with or without Kyrie Irving, LeBron James will not waive his no-trade clause for any teams at any point during the 2017-18 season, league sources told ESPN."
The haul in a potential James trade could be astronomical. But the yearly MVP candidate apparently has no interest in bouncing no matter what.
James preparing for an exit?
It's long been rumored now that James will exit from the Cavaliers again. NBA's most reliable reporter, Adrian Wojnarowski has stuck to his claim that James is "intrigued" with pursuing a Los Angeles Lakers "exit plan".
With Lonzo Ball en tow and Paul George possibly making a decision to come home, it could be a big summer next year for the Lakers.