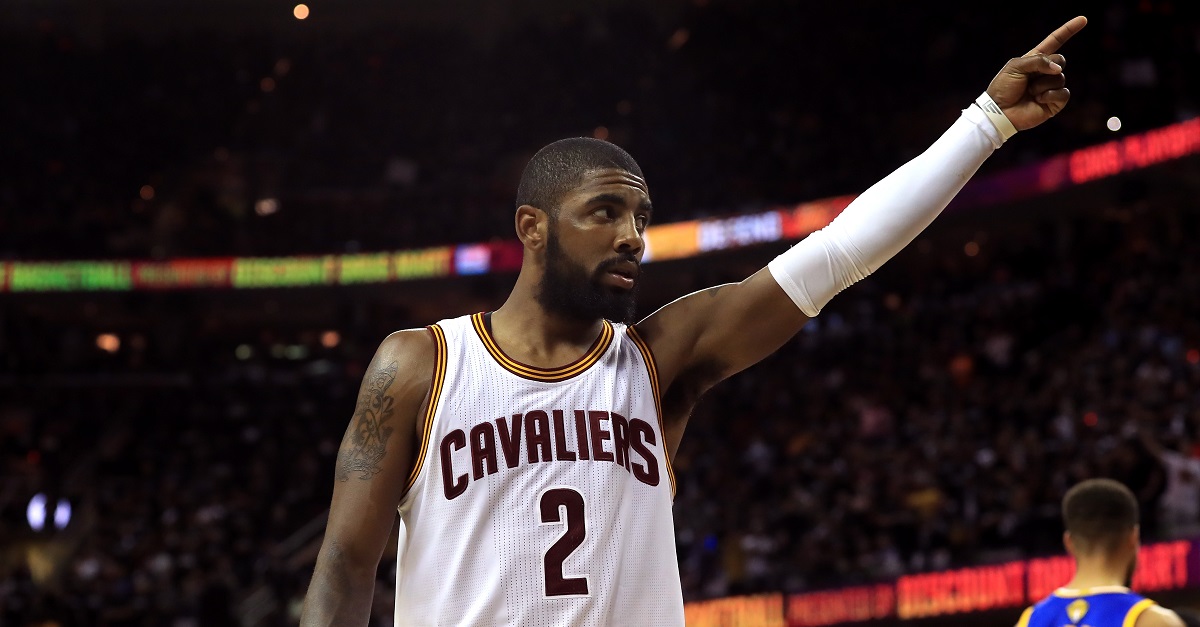 Scott Halleran/Getty Images
CLEVELAND, OH - JUNE 09: Kyrie Irving #2 of the Cleveland Cavaliers gestures to the crowd in the third quarter against the Golden State Warriors in Game 4 of the 2017 NBA Finals at Quicken Loans Arena on June 9, 2017 in Cleveland, Ohio. NOTE TO USER: User expressly acknowledges and agrees that, by downloading and or using this photograph, User is consenting to the terms and conditions of the Getty Images License Agreement. (Photo by Ronald Martinez/Getty Images)
With the ongoing rumors surrounding Kyrie Irving's request to be traded elsewhere, the Cleveland Cavaliers may have a bigger role waiting for recently acquired point guard Derrick Rose.
Rose, a former NBA MVP, signed a one-year, $2.1 million veterans minimum deal with the reigning Eastern Conference champions as a way to prove he's still capable of being one of being a productive point guard.
However, Cleveland.com's Joe Varden, reported Rose chose the Cavaliers over several other teams after discussing potentially returning to the NBA Finals without Kyrie Irving on Monday:
"Derrick Rose and the Cavaliers agreed to a one-year deal for $2.1 million Monday after spending the day together, discussing how the team will return to the Finals without Kyrie Irving. Rose, 28, the 2011 NBA MVP whose career has been hampered by knee injuries, will come to the Cavs looking for his first trip to the Finals after eight pro seasons. He's also looking at a potential starting spot in the same lineup with LeBron James, now that Irving has asked for a trade and James is eager to see him off."
On Tuesday, ESPN's Ramona Shelburne reported that Rose chose the Cavaliers over the Los Angeles Lakers because he would have to accept a bench role behind rookie point guard Lonzo Ball.
If reports are true, Cleveland could be more inclined to move the disgruntled Irving sooner than later, which would likely bring several more options to play alongside James and Rose.