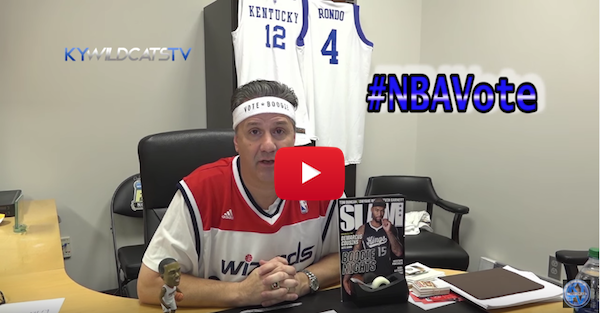 Kentucky coach John Calipari loves all of his former players and gives them all the love they deserve. He will always say great things about guys like John Wall — as he should — and even Rajon Rondo and DeMarcus Cousins (who have had numerous issues). And that's why so many recruits love to play for him.
Now he's going to bat for these guys in the All-Star voting for the game in Toronto next month. He breaks out all the stops with a John Wall jersey, Slam Magazine with "Boogie" Cousins on the front, and a Rondo jersey hanging on the wall behind him. He's also got a beautifully made unibrow for Anthony Davis so you know he's taking this voting seriously.
He also gives a nice shout out to Enes Kanter — even though he never actually played a game for Cal — and rookie Karl-Anthony Towns who has been playing phenomenal. Devin Booker, Nerlens Noel, and others also get some play from Coach Cal. Is that unfair for these guys? Will their voting numbers go up? I guess we'll have to wait and see.