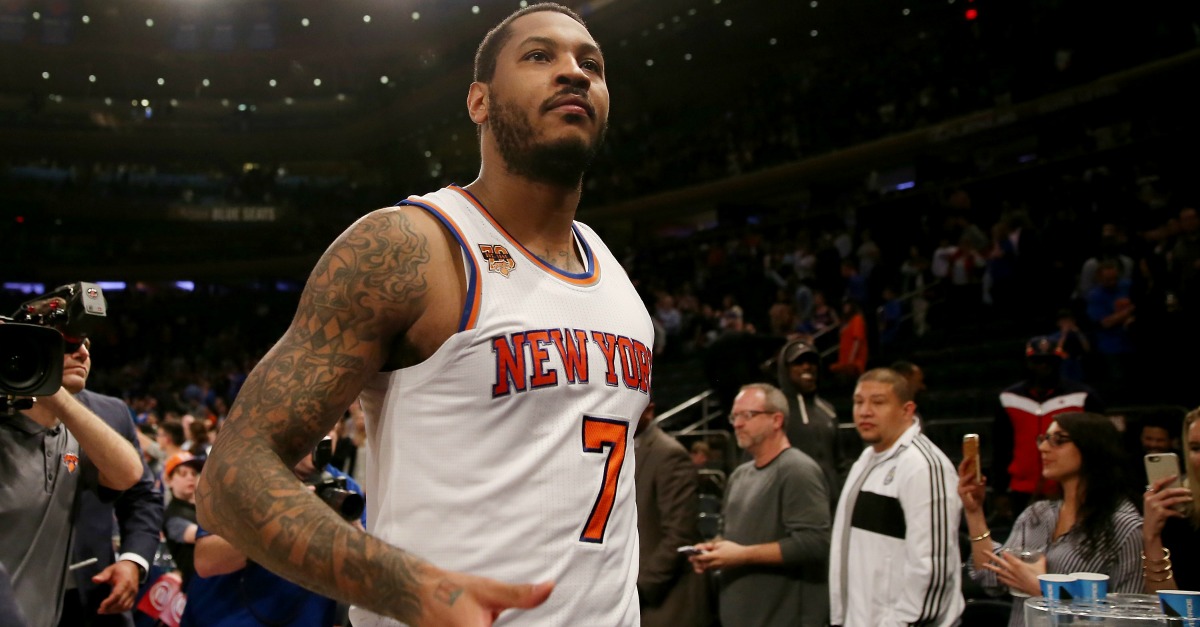 Elsa Getty Images
at Madison Square Garden on April 12, 2017 in New York City. NOTE TO USER: User expressly acknowledges and agrees that, by downloading and or using this Photograph, user is consenting to the terms and conditions of the Getty Images License Agreement
It appears that Carmelo Anthony and the New York Knicks are headed for a divorce ? Phil Jackson, the team?s president, wants him gone, and Melo seems receptive to waiving his no-trade clause.
Now comes a report that a trade could have come earlier, until another team?s executive nixed (or knickxed?) it.
The New York Post reports the Boston coaching staff wanted to deal for Anthony before the February trade deadline, but general manager Danny Ainge said no. He worried that the transaction would cripple the Celtic?s financial flexibility under the salary cap and leave the team no room to chase free agents. (Anthony will make $24.56 million this coming season).
RELATED: Phil Jackson keeps trying to push Carmelo Anthony out of New York
But, with the No. 1 seed Celtics on the verge of being upset by the No. 8 seed Chicago Bulls, Ainge may be changing his tune, the report said. (Boston trials 2-0 as the series moves to Chicago).
There are number of signs that point to a potential deal. Boston needs more scoring, and Melo is a true scorer (some say ball hog) who, at the age of 32, averaged 22.4 points per game, not far off his career average of 24.8 ppg. The Celtics have the expiring contracts to be able to absorb Melo?s salary, and they also have an extra first-round draft pick in the upcoming draft.
The L.A. Clippers and Washington Wizards could also be destinations for Melo.