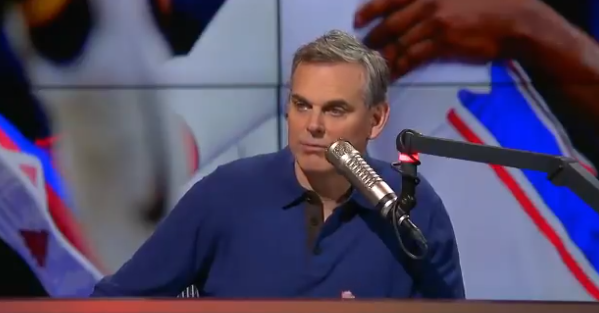 @OfficialCSO/Twitter
@OfficialCSO/Twitter
After a dominant performance on Wednesday night by Joel Embiid, an old hot take by Colin Cowherd has resurfaced and does not reflect well on Cowherd.
"Sixers' Joel Embiid, who was a center drafted in 2014, is now out for the rest of the season with a torn meniscus. That's three major injuries. I'm sorry and I know everybody is getting offended by this, and I know in the P.C. world we live in we can't say things like this, but he is now Greg Oden. Yep. He is."
Cowherd refers to Embiid as Oden because Oden suffered through a long history of knee problems that derailed his career. As the former top pick in the 2007 draft, Oden managed to only play a total of 105 games in the NBA in three seasons – two with the Portland Trail Blazers and one with the Miami Heat. Oden missed his entire first year in the league after undergoing knee surgery shortly before the season started. He would have three seasons cut short by injuries and went a total of three consecutive years without playing in the NBA before joining the Heat in 2013.
Embiid has dealt with his share of injuries as well. He was the third overall pick in the 2014 draft and missed his first two seasons due to foot and knee injuries before debuting last season. He only appeared in 31 games last season before being shut down in January with a knee injury.
Embiid has bounced back quite well this season and has looked as healthy as he has been during his short career. He became the first player in NBA history on Wednesday night to record at least 46 points, 15 rebounds, seven assists and seven blocks in a game since blocks became an official stat in 1973-1974. The 46 points Embiid scored are a career high and is easily his best performance to date.
By completely dominating the Los Angeles Lakers on Wednesday, it's safe to say that Cowherd's hot take from last year may not end up panning out quite like he predicted. Of course, Embiid still has yet to turn in a full season in the NBA and hasn't necessarily proved he can stay healthy, but this season could be the first of many that we see him completely dominate games as a big man.
Here's to hoping he can stay healthy.