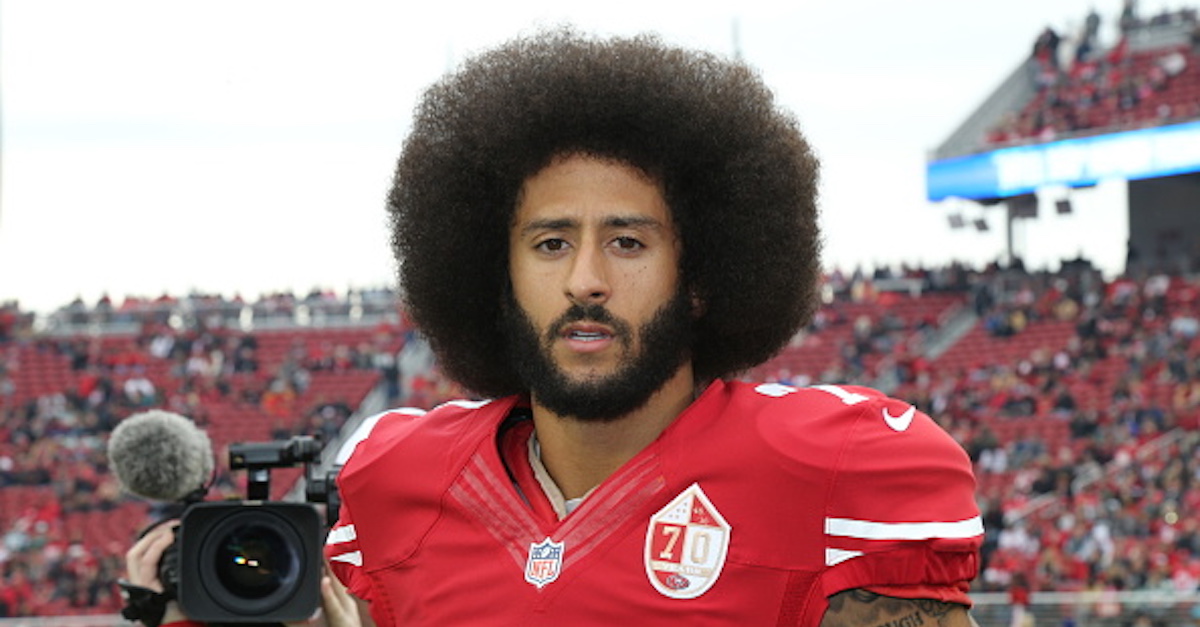 Al Pereira/Getty Images
SANTA CLARA, CA - DECEMBER 11: Quarterback Colin Kaepernick #7 of the San Francisco 49ers in action against the New York Jets at Levi's Stadium on December 11, 2016 in Santa Clara, California. (Photo by Al Pereira/Getty Images)
Mark Cuban, the owner of the Dallas Mavericks, isn't afraid to be outspoken, and with the amount of money and power he has in his life, who can blame him?
Cuban shoots from the hip and he's known for being as enthusiastic about his team as any fan in the arena. He's also somewhat of a social figure who isn't afraid to dip his toe into controversial topics.
Again, who's going to tell him no?
That's why it's not surprising to hear that Cuban recently threw out some remarks regarding Colin Kaepernick and his situation in the NFL. Kaepernick is essentially being shunned by the league for his controversial stance against the National Anthem. He's been a national talking point ever since his protests and he's been the talk of the 2017 NFL offseason — while there's no real football to distract us.
For what it's worth, though, Cuban believes that if Kaepernick was an NBA player instead of an NFL quarterback, his current free agency woes wouldn't be an issue. In fact, Cuban told Rick Maese of The Washinton Post that the NBA would embrace him.
?I don?t know what his status is in the NFL, but I?m glad the NBA doesn?t have a [political] litmus test for our players,? Dallas Mavericks owner Mark Cuban said. ?I?d like to think we encourage our players to exercise their constitutional rights.?
While we'll never know exactly how the NBA would react in this situation, it is worth noting that NBA players have expressed their social and even political opinions in the past without any repercussions from the league.
According to Cuban, there's a bit more tolerance for different things in the NBA, perhaps because of the global reach of the league and the game of basketball.
?The NBA is such a global game,? Cuban said in an email, ?I think our players exposure to different political systems among their teammates may help them appreciate our country even more and encourage their participation.?
Cuban may have a point regarding the global nature of the NBA. Though there are some exceptions, generally, NFL players are from the United States and they usually only play in the United States. Sure, the NFL has tried to take the game globally, but ultimately, the game of football as we know it in the USA is really an American passion.
Meanwhile, basketball is as big in Europe and Asia as it is in the United States, and plenty of NBA stars have ended up coming to play in the USA from overseas.
Maybe that makes the NBA a bit more accepting of differences between people.
With that said, if you really want to play Cuban's hypothetical out, imagine Kaepernick playing for the Mavericks and taking a knee courtside during the national anthem. An NBA environment is much smaller, condensed and ultimately, intimate. And many of the same fans who despise Kaepernick's actions in the NFL would be the same fans watching an NBA game.
They'd just be booing much closer, and it would sound much louder in an NBA arena.
Perhaps the league would be more accepting, but ultimately, this is about the NFL being afraid of fan reaction to the signing of Kaepernick. Fans equate to money, and money is the bottom line for sports leagues, so though Cuban may be right in one aspect, Kaepernick's situation would likely still be the same in the NBA.