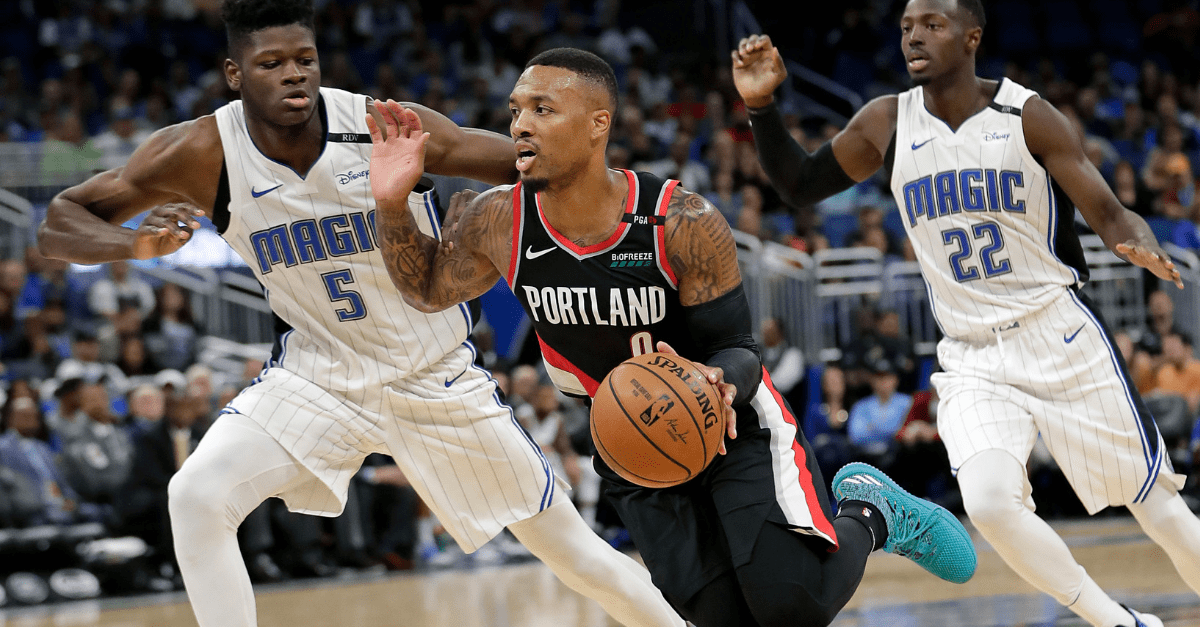 AP Photo/John Raoux
It might have been the first road game of the young season Thursday night, but Portland Trail Blazers guard Damian Lillard has been through it all before. The veteran floor general is no stranger to the big stage in enemy territory and he showed exactly why he was named All-NBA First Team last season.
After a sluggish start — going 2-for-8 with just seven points in the first half against the Orlando Magic — the 6-foot-3 floor general exploded in the final two quarters to finish with 41 points, seven rebounds and six assists in a 128-114 win at the Amway Center in Orlando, Florida.
RELATED: Damian Lillard Draws Massive Portland Crowd With This Single Tweet
This type of performance is nothing new. It?s what fans have come to expect from the three-time NBA All-Star, especially when the game is on the line.
However, there was some extra motivation to take over the game in the second half. A fan sitting behind the Magic?s bench gave Lillard an earful the entire first half.
?Typically, I would have just ignored him,? Lillard said. ?But he was so loud and saying some crazy stuff. I addressed it how I should. I did it on the court.?
Oh, man, did he ever. Lillard went 11-for-15 in the final 24 minutes, including 5-for-8 from 3-point range for 34 points. It is a franchise-record for points scored in a half.
?They had a guy behind their bench that just kept running his mouth and running his mouth. He just kept running his mouth, running his mouth. And I told him, I said, ?you?re gonna get them in trouble.? You know what I?m saying? I?m here for this. He kept on talking, and in the second half I didn?t hear a word from him. So that?s that.? ? Portland Trail Blazers guard Damian Lillard
It even looked like Lillard looked over toward the fan after burying a clutch 3-pointer midway through the fourth quarter, too.
Here?s some friendly advice to the rest of the league: Don?t mess with Damian Lillard.