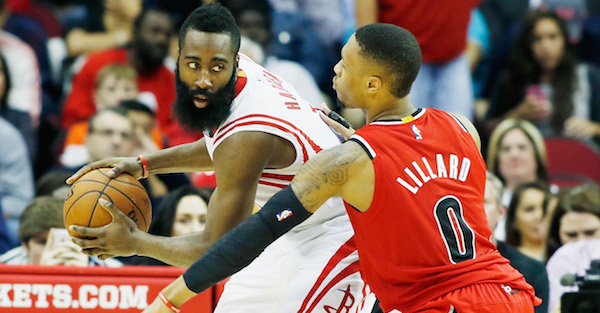 Scott Halleran/Getty Images
HOUSTON, TX - DECEMBER 22: James Harden #13 of the Houston Rockets looks to drive with the ball against Damian Lillard #0 of the Portland Trail Blazers during their game at the Toyota Center on December 22, 2014 in Houston, Texas. NOTE TO USER: User expressly acknowledges and agrees that, by downloading and or using this photograph, User is consenting to the terms and conditions of the Getty Images License Agreement. (Photo by Scott Halleran/Getty Images)
Many NBA players are forming super teams or at least discussing the formation of super teams, but Damian Lillard is having none of it.
The Portland Trailblazers' two-time All-Star appeared on Complex's Everyday Struggle on Wednesday to discuss whether he'd leave Portland to join a super team to win an NBA title, and he said he'd rather not win an NBA title than join other stars in a different city.
"I?m not joining nobody," Lillard said. "I would not win a championship before I go and team up and do all that. Unless it was something I couldn?t control. I?m saying this because this is how I feel, not how I feel at the moment. That?s just how I feel about it. I think if that?s what somebody wants to do, I?m not mad at them for doing it. I?m just telling you what I?m not going to do. That ain?t how we get down."
Lillard has tried to recruit Carmelo Anthony to join him in Portland, and he said he would want other star players to come play with him. But he isn't leaving Portland in his prime to join other stars to chase a title.
He did say he didn't want to seem critical of LeBron James or Kevin Durant for leaving their teams to join super teams, but it just isn't for him.
"If it make them feel good, if they comfortable doing it, then do you," Lillard said.
Lillard is under contract with the Blazers through the 2020-21 season, so he's not going anywhere anyway unless he's traded. But Portland fans and his teammates have to respect his commitment to the franchise.
(h/t Complex)