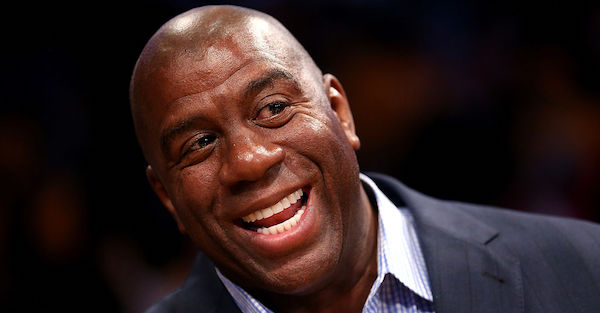 Stephen Dunn/Getty Images
the Dallas Mavericks the Los Angeles Lakers at Staples Center on October 30, 2012 in Los Angeles, California. NOTE TO USER: User expressly acknowledges and agrees that, by downloading and or using this photograph, User is consenting to the terms and conditions of the Getty Images License Agreement. (Photo by Stephen Dunn/Getty Images)
The Los Angeles Lakers made a trade few saw coming, which will be completed Thursday, by sending D'Angelo Russell and Timofey Mozgov to the Brooklyn Nets for former All-Star Brook Lopez and the No. 27 overall selection in the 2017 NBA Draft.
The move comes as whispers emerged that the Lakers were preparing to try to trade for former All-Star Paul George, securing his final destination in free agency next year with Los Angeles amidst speculation he could play one season and enjoy a new home with the likes of the Cleveland Cavaliers.
The move clears cap space for the Lakers, with $48 million remaining on Mozgov's monstrous contract and $54 million total shed. It also gives the Nets a blossoming guard in what is currently a miserable New York situation.
Lopez is a solid fit for the Lakers, who appear closer to win-now mode than any year in recent memory. He fits both the Lakers' ideal system should they keep him, but also stands as a valuable cap filler should the Lakers opt to flip Lopez and his $22 million expiring contract.
And if there was any confusion, it also clears the way for the Lakers to take Lonzo Ball at No. 2 overall Thursday night in the 2017 NBA Draft.