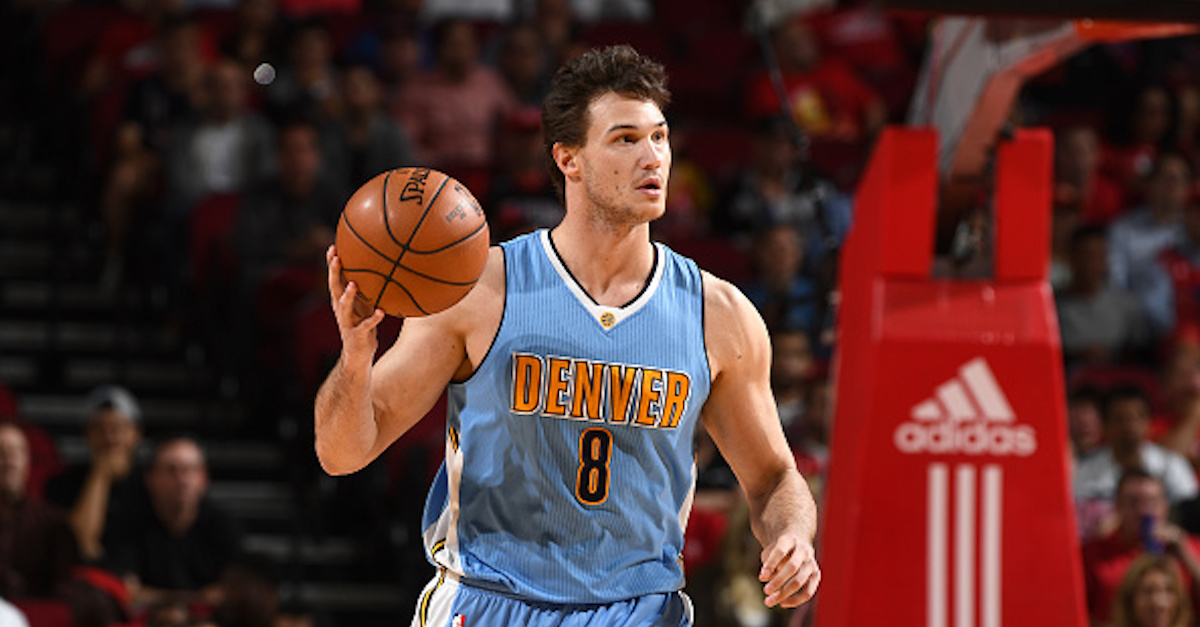 Garrett Ellwood/NBAE via Getty Images
HOUSTON, TX - APRIL 5: Danilo Gallinari #8 of the Denver Nuggets handles the ball against the Houston Rockets on April 5, 2017 at Toyota Center in Houston, Texas. NOTE TO USER: User expressly acknowledges and agrees that, by downloading and or using this photograph, user is consenting to the terms and conditions of Getty Images License Agreement. Mandatory Copyright Notice: Copyright 2017 NBAE (Photo by Garrett Ellwood/NBAE via Getty Images)
UPDATE — the trade is done:
According to reports, there's a real chance that some big-time names will be moving around on the NBA trade block very soon, and the Los Angeles Clippers, Denver Nuggets and Atlanta Hawks are all reportedly involved.
According to Shams Charania of The Vertical, the three aforementioned teams are seriously discussing a multi-team trade right now that would involve some major names, including Danilo Gallinari, Jamal Crawford, Diamond Stone and Paul Millsap.
If this possible trade goes through, it would send Gallinari from the Nuggets to the Clippers in a sign-and-trade deal. Atlanta would receive Crawford and Stone from the Clippers as well as a future first-round pick, and of course, Millsap just reached a three-year, $90 million deal with Denver.
Charania offered more details on the trade that could pair up Gallinari with Blake Griffin and DeAndre Jordan:
Gallinari met with the Clippers over the weekend and came away impressed with the franchise?s direction, sources said. ESPN first reported that Gallinari was strongly leaning toward agreeing to a deal with the Clippers.
Though the Nuggets will win big with Millsap, who has made four All-Star teams in the past four seasons, it's really interesting to think about what the Clippers would look like with Gallinari on board.
He's a former No. 6 overall pick (taken in 2008 by the New York Knicks), who averaged 18.2 points, 2.1 assists and 5.2 rebounds per game last season for the Nuggets. He's a big-time small forward who can do a little bit of everything at 6-foot-10, 225 pounds. He's a mismatch in that he can move around the floor and he does a great job of getting open on the perimeter and knocking down tough shots, but he can get down into the paint and throw his weight around as well.
https://www.youtube.com/watch?v=bJIpaS-eNaQ
Gallinari is a great off-ball offensive weapon who will stretch a defense, but he's also extremely tough to guard one-on-one with the ball in his hands. Paired up with Griffin and Jordan, Gallinari could be the piece of the puzzle that puts the Clippers in contention again in the West, and at the very least it would give Los Angeles one of the most dynamic frontcourts in the NBA.
Crawford and Stone are two very nice players for Atlanta to receive and Millsap is without a doubt a huge pickup for Denver, but the sign-and-trade that would see Gallinari end up with the Clippers is the real headline of this potential trade.
According to Adrian Wojnarowski of ESPN, the Clippers are currently finalizing the sign-and-trade agreement. The contract for Gallinari is reportedly worth $65 million over three years.