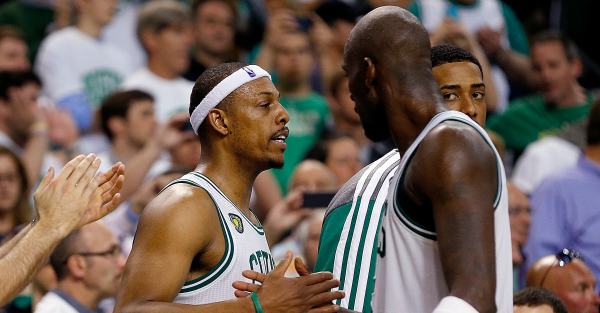 RELATED: Nets fire Lionel Hollins, GM King steps down
__________________________________________________________________________________________
The Brooklyn Nets have been an absolute mess for some time now. It all can be traced back to the huge blockbuster (at the time) trade for Kevin Garnett and Paul Pierce that sent them to Brooklyn and gave the Celtics their potential top-3 pick this year in the draft. The Celtics also got several more less valuable picks from them while the Nets then went on to completely implode and fail miserably at winning games.
In an interview with Sports Illustrated, Celtics GM Danny Ainge spoke at length about how the trade came up and how he wasn't looking to trade those two at all. From SI:
"I wasn't really trying to trade Kevin and Paul," says Ainge when asked about the deal that currently makes Boston's future twice as bright. "I had sort of resigned myself to the fact that Kevin and Paul would remain Celtics and retire as Celtics. There really hadn't been much momentum, or even tempting opportunities to move them, until Brooklyn came along and made an offer. It sort of came up last minute, right before the draft."
"We needed some direction," Ainge says of the Celtics in June 2013. "It's tough when you have aging veteran guys and young guys trying to mix. But at the same time, we would love to have our young core group of guys be mentored by KG and Paul. There was a lot of good things that could have happened either way."
Basically, the Nets handed them these picks willingly and Ainge didn't even have to haggle. This is why the Nets and Billy King cannot be trusted to do the right thing and why the Nets went out and got Sean Marks to become their new GM.