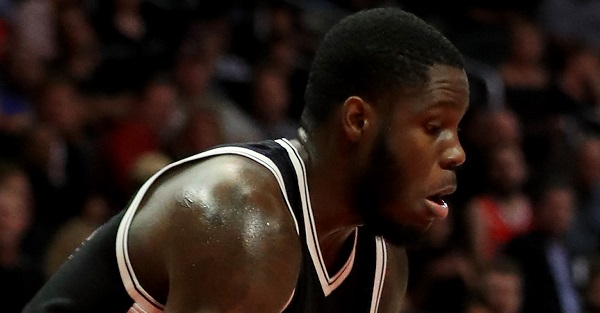 Sean M. Haffey/Getty Images
LOS ANGELES, CA - NOVEMBER 14: Anthony Bennett #13 of the Brooklyn Nets and Austin Rivers #25 of the Los Angeles Clippers battle for a loose ball during the second half of a game at Staples Center on November 14, 2016 in Los Angeles, California. (Photo by Sean M. Haffey/Getty Images)
Anthony Bennett will likely go down as the biggest NBA draft bust of all time, and he has been among the least productive No. 1 overall picks in NBA history.
Bennett, who was taken first by the Cleveland Cavaliers in 2013, averaged 4.4 points per game throughout his career, and he's not even an NBA roster at the moment. Bennett was traded along with Andrew Wiggins to the Minnesota Timberwolves for Kevin Love, and he's since bounced around from the Wolves to the Toronto Raptors to the Brooklyn Nets.
Former Cavs general manager David Griffin told the story of how he decided to draft Bennett in Jason Lloyd's new book "The Blueprint," which details how LeBron James and the Cavs won the NBA title. An excerpt from the book was released on The Athletic, and Griffin said he felt badly for his predecessor at GM, Chris Grant, because Grant didn't like Bennett but Griffin did.
Related: NBA executive names one team that?s ?10 or so points better? than Kentucky
"The issue with Anthony was, and we had no way of knowing it at the time, the kid had no desire to overcome adversity whatsoever. As soon as it was hard, he was out," (David) Griffin said. "His whole life, he rolled out of bed bigger, better, and more talented than everybody else. As soon as it was hard, it was over. And I was the one on campus at UNLV. I'm the one who got sold the bill of goods and I bought it hook, line, and sinker. You f**k up sometimes. But I feel bad Chris (Grant) took it for that, because Chris was the one guy who wasn't sure."
The 2013 NBA Draft was historically awful, so while the Cavs certainly don't get a pass for whiffing on Bennett, it's not like other lottery teams were drafting All-NBA players. Giannis Antetokounmpo will go down as the best player from that draft (and maybe of this generation), but he was an unknown and fell to No. 15.
(H/T The Athletic)