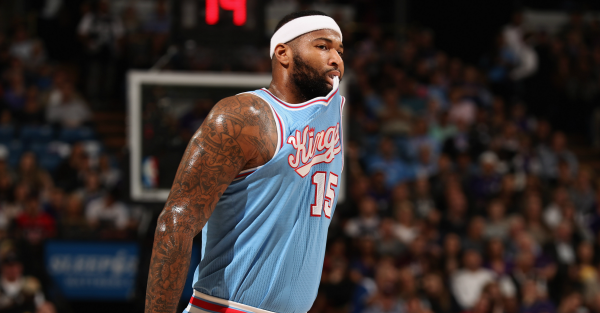 DeMarcus Cousins is a passionate and often very vocal player for the Sacramento Kings. It often earns him a suspension from the organization because he is usually directing tirades and subtweets at his coach, George Karl. He served a one-game suspension on Friday against the Orlando Magic for "conduct detrimental to the team" and most people assumed it came from the higher ups. However, Cousins revealed otherwise and had quite a few things to say about it.
Following a loss on Sunday to the Utah Jazz, Cousins said that the suspension actually came from Karl himself.
"That was no suspension from the organization. That was one from the head coach. There's a difference. There's been so much extra stuff this season. Extra, unnecessary stuff. There are a lot of battles between guys that should be on your side. I would say that this [loss] is one of the most frustrating ones."
This particular suspension came from a tirade Cousins directed at Karl during a game on Wednesday against the Cleveland Cavaliers. Of course, Karl thinks he's handled all of Cousins nonsense like a professional, which might be the biggest joke of them all considering he's buddy buddy with Cousins one moment and then whining about him to the media the next. Karl knew what he was getting himself into and still decided to coach this team.
"In general I think, professionally, I've done my job," Karl said before Sunday's game. "There will be an opportunity to talk with Cousins. We've exchanged pleasantries, but nothing in depth. I am not going to communicate how we evolve in this. The best thing for everybody, for Cousins, for me, the team, is to get a win."
The best thing for anyone at any time is to get a win. That generally solves all problems. But this team is so bad (25-40) and is being coached by the wrong guy. Wins will not be easy to come by in the near future with games against New Orleans, Detroit and Chicago coming up.