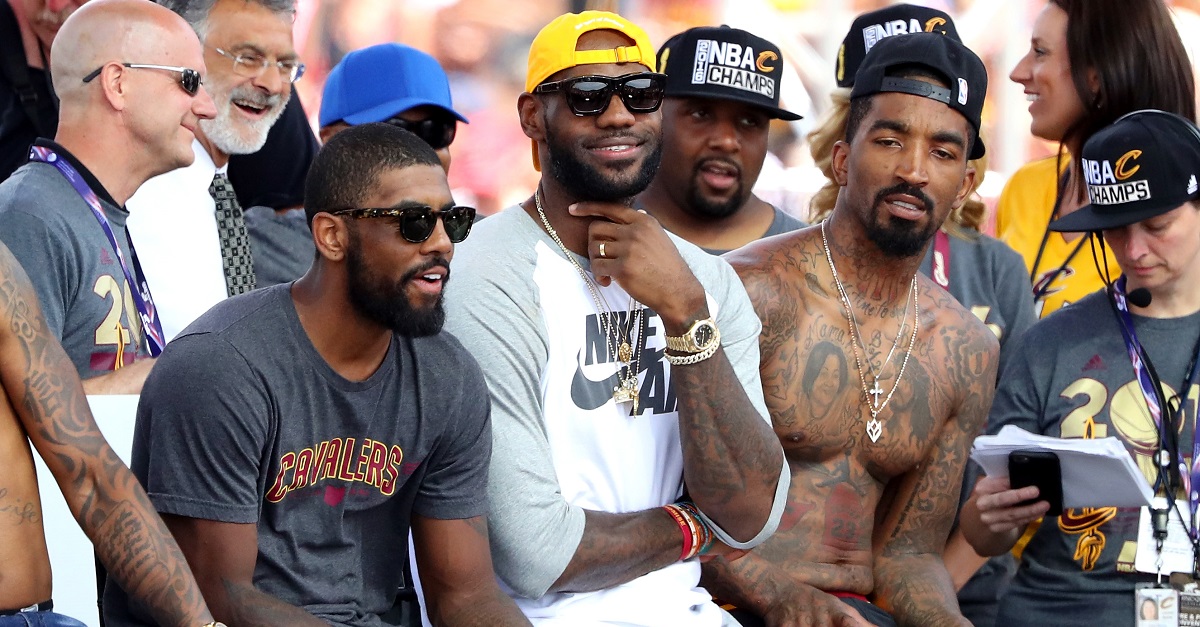 Mike Lawrie/Getty Images
CLEVELAND, OH - JUNE 22: Kyrie Irving #2, LeBron James #23 and J.R. Smith #5 of the Cleveland Cavaliers look on during the Cleveland Cavaliers 2016 NBA Championship victory parade and rally on June 22, 2016 in Cleveland, Ohio. (Photo by Mike Lawrie/Getty Images)
Former MVP Derrick Rose has signed with the Cleveland Cavaliers on a one-year, $2.1 million deal, and he may have chosen to join the Cavs because of what's going with Kyrie Irving in Cleveland.
It was reported that the Los Angeles Lakers were also very interested in bringing in Derrick Rose on a short-term deal, but Rose didn't want a reserve role and, because of Irving's trade request, he would have the chance to start alongside LeBron James in Cleveland.
Via Cleveland.com:
"Derrick Rose and the Cavaliers agreed to a one-year deal for $2.1 million Monday after spending the day together, discussing how the team will return to the Finals without Kyrie Irving. Rose, 28, the 2011 NBA MVP whose career has been hampered by knee injuries, will come to the Cavs looking for his first trip to the Finals after eight pro seasons. He's also looking at a potential starting spot in the same lineup with LeBron James, now that Irving has asked for a trade and James is eager to see him off."
This is certainly an interesting development in the Irving-Rose-Cavs issue, as the Cavs seem to be OK with Rose replacing Irving rather than supplementing Irving off the bench in a reserve role. The other interesting note is that James seems to be very much in favor of this move, having tweeted out his support, along with James being involved in his recruitment to Cleveland.
Either way, this tricky situation in Cleveland continues to get trickier.