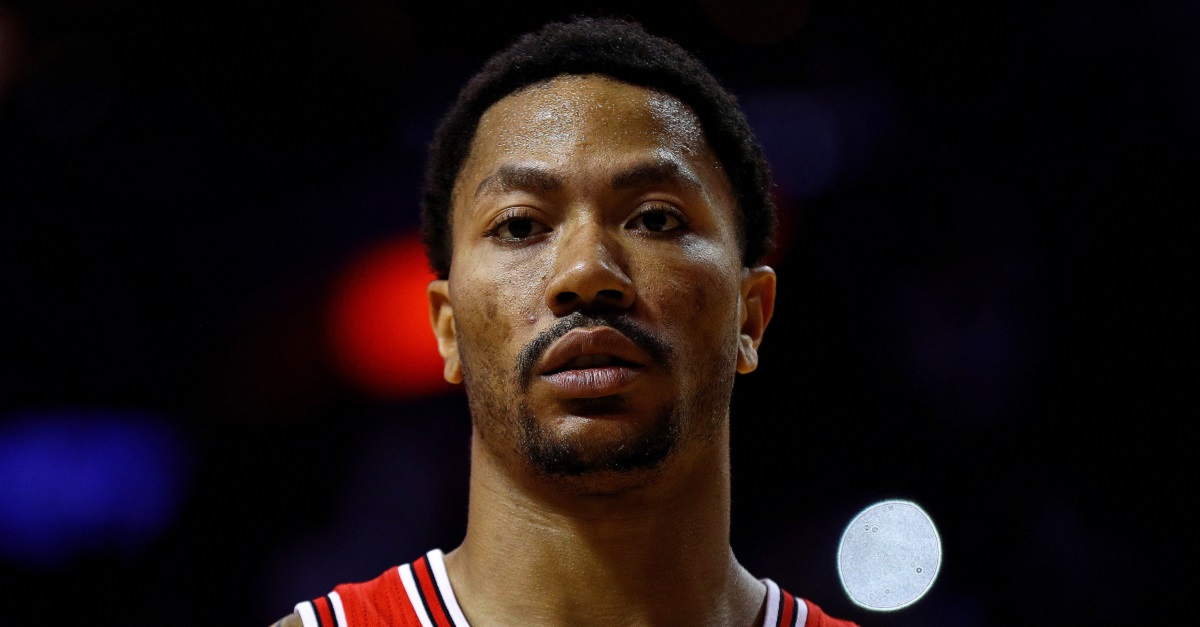 MIAMI, FLORIDA - APRIL 07: Derrick Rose #1 of the Chicago Bulls looks on during a game against the Miami Heat at American Airlines Arena on April 7, 2016 in Miami, Florida. NOTE TO USER: User expressly acknowledges and agrees that, by downloading and or using this photograph, User is consenting to the terms and conditions of the Getty Images License Agreement. (Photo by Mike Ehrmann/Getty Images)
Former Chicago Bulls point guard Derrick Rose must have received some concussions we don't know about because he is making some absolutely outrageous claims. The current New York Knicks guard is definitely confusing someone's quote because he actually believes that someone called this Knicks squad a "super team."
RELATED: Derrick Rose headed to NY in recent trade
Rose was speaking with a group of reporters in Las Vegas during USA Basketball's practices and gave them this stunning quote:
"With these teams right now, they're saying us and Golden State are the superteams, and they're trying not to build that many superteams, and Adam Silver came out with the statement and this and that," Rose said. "And the expectations I think of us, we just want to win."
He's right that this team should win some games, but no one is expecting this team to win enough to get far in the playoffs. I think Rose might have gotten confused with all the people who said this team would have won the Finals…in 2011.
Rose clearly needs to learn his new place in the Eastern Conference because these Knicks aren't competing like his great Bulls teams that always brought the LeBron James-led Miami Heat to the brink of elimination year after year.