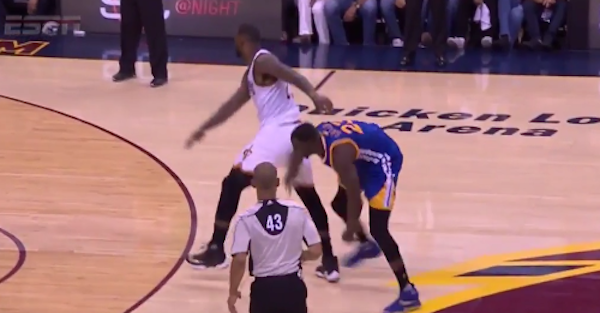 This NBA postseason has become a series of punches, kicks and taps to the man region. Warriors forward Draymond Green has kicked Steven Adams (twice!) and now LeBron James below the belt, Cleveland bench mob man Dahntay Jones was suspended a game for hitting Raptors big man Bismack Biyombo in the man berries as well.
RELATED: Draymond Green got away with the dirtiest play and somehow wasn't tossed from the game
Well, it looks like Green got away with another cheap shot on Friday night as he got LeBron James below the belt after the two got into a bit of a scuffle. The two had been jawing at each other and ended up each receiving a personal foul for getting in each other's faces and pushing each other — a classic bail out double foul situation!
And let's take a look from another angle and in slow motion:
That looks like a clear attempt to hit James where it hurts the most, although Green seemed to miss his target. Green has to be stopped before he actually prevents someone from having kids because this has just gotten out of hand. The NBA will likely not review this play and James himself said he doesn't expect anything to happen.
Green is two technical fouls away from being suspended a game during the Finals and has come close to receiving those techs on several occasions. Game 5 is Monday in Oakland.
[h/t SI.com]