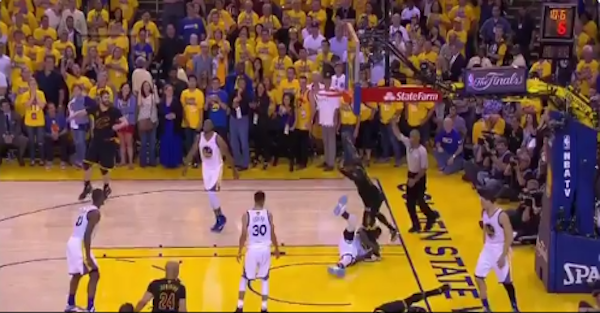 The Cleveland Cavaliers made history by not only becoming the first team to come back from a 3-1 deficit in the Finals, but also became the first major sports team in Cleveland to win a title since 1952. Thanks to a Game 7 triple-double from LeBron James, the Cavaliers won 93-89 in the deciding game of the series.
RELATED: Cleveland makes history in Game 7 win
The series didn't come without its controversies and frustrations though. Draymond Green of the Warriors had a few errant leg kicks throughout the postseason and his one in Game 4 ended up costing him Game 5.
RELATED: Did Draymond get away with another nut tap in Game 4?
It looks like he might have had another in the final game of the series and I wouldn' have blamed him for trying to get his frustrations out as he was the only Warrior playing well that night with his 32 points, 15 rebounds and nine assists, but he didn't get any help from his teammates.
RELATED: Draymond Green got away with the dirtiest play and somehow wasn't tossed from the game
That usually comes in the form of some kind of kick and after he gave LeBron James a pretty hard foul he fell to the floor and it looks like he might have tried to take another cheap shot, this one directed at Kyrie Irving.
Will the NBA take any more action against Green or is this one going to slide since it was the last game of the season? I doubt the NBA cares very much at this point, but it might be something to look at for the beginning of next season.
[h/t CollegeSpun]