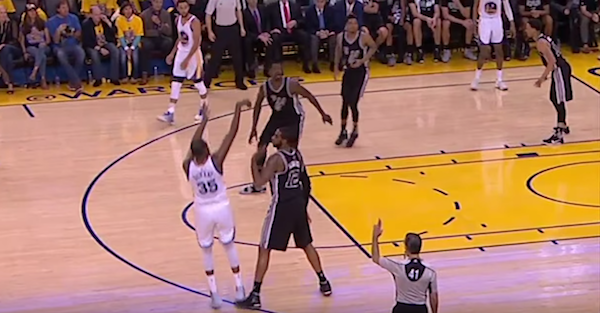 @NBAShow/YouTube
@NBAShow/YouTube
The San Antonio Spurs lost MVP candidate Kawhi Leonard in Game of the Western Conference Finals to injury after Golden State Warriors' center Zaza Pachulia had a controversial close out on the former.
Leonard missed Game 2 of the series Tuesday night, and LaMarcus Aldridge may have been looking for revenge when replays showed that the former Texas star attempted a close out very similar to Pachulia's on Kevin Durant.
The difference, though, is Durant avoided Aldridge's feet after coming down from his shot, while Leonard did not and fell on Pachulia which caused him to hurt his ankle once again.
Situations like these are hard to diagnose, as it's hard to know what Aldridge and Pachulia are thinking when they attempt their close outs and if it's a conscious decision on their part to try and get underneath the shooter to cause an injury.
Still, this isn't a good look for Aldridge.
The Warriors won Game 2 and took a 2-0 series lead in the best-of-seven series.