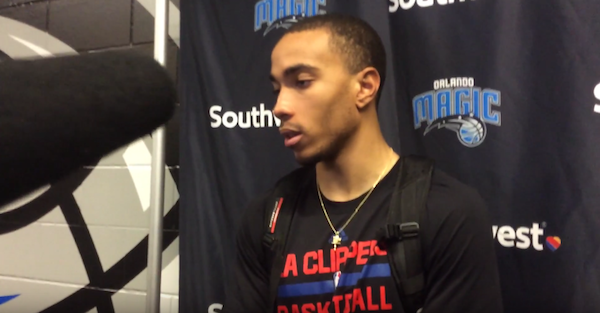 The Los Angeles Clippers are hoping to keep their trio of Chris Paul, Blake Griffin and DeAndre Jordan together as long as they all play, but there will be players who have to step in to replace each of them at some point. Paul obviously makes the offense go as the point guard, but Griffin has shown that he can handle the burden of being the focal point of an offense.
RELATED: Clippers reportedly offered Blake Griffin for four players
Griffin has improved not only his shooting efficiency and range, but his passing ability and ball handling as well. This makes him an indispensable part of the offense and it's hard to imagine a player who might be able to replace him down the line when Griffin's athleticism leaves him — if it ever should.
Rather than going out and trying to sign another guy the Clippers might want to look inward at its own organization. They just drafted a guy who is similar to Griffin when he was drafted first overall in 2009. Both were pogo sticks and known more for their athleticism than their shooting ability or anything else. Now Johnson will have to prove that he's ready to take on the challenge of putting on weight and banging with the big boys of the NBA.
When asked about the toughest part of the transition from college ball to the NBA Johnson said that it's mostly the physicality and having to play against bigger guys.
"Just the physicality. Guys are tremendously stronger than I am and they're looking to hit you. They don't shy away from contact. In college guys just kinda shy away from it. You can use your speed and athleticism. They go after you here. They're just junkyard dogs."
Johnson also made it pretty clear that not only was he confident in his jumper — which he didn't get to display all too often at UNC — but that he was confident he would be able to contribute right away to the Clippers.
"Just trying to prove that I'm a hard worker and I can play in this league. I can come in there and help them (the Clippers) out as soon as I get there. They probably need a little help at the four position backing up Blake and giving him some rest time here and there. So I just want to be able to go out and show them that I can go out there and give them good minutes to get him back on the court and have him fresh and ready to go for the entire season."
While he makes an excellent point, he also said that before the Clippers went out and signed Marreese Speights to a deal to help spell Griffin's minutes.
While Speights will surely take some time away from Johnson on the court, that might actually help Johnson's development as he needs to gain some weight and get stronger so that he can pair his supreme athleticism with a strong base. However, Johnson's mid-range game is already better than Griffin's was coming into the NBA so if the former Tar Heel can put on some muscle, he could very well become Lob City's newest alley-ooper.