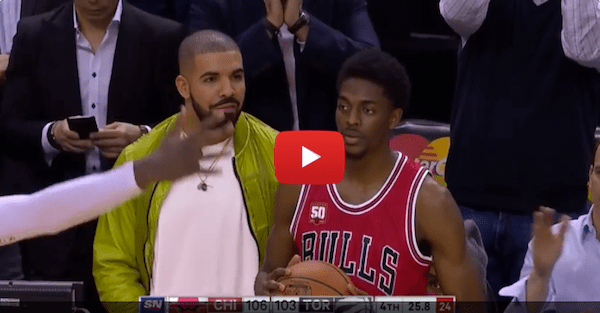 It's not often in the NBA you get to see a five-second call on an inbounds pass, but we got that with the Toronto Raptors playing the Chicago Bulls on Monday night. It was late in the fourth quarter with the Bulls up by three with under 30 seconds left in the game.
The Bulls were inbounding the ball on the sideline, but it just so happens that Drake was sitting there and he was right in the ear of Justin Holiday.
https://twitter.com/BenGolliver/status/709559399761588224/video/1
What could Drake have possibly been saying to keep Holiday distracted? Were they secret lyrics for his next album? Maybe he was just telling Holiday to get on that hotline bling or maybe he was whispering a whole lot of nothing just to keep Holiday's attention away long enough for the call.
We may never know, but that is why Drake is considered one of the best celebrity fans in the league. The Raptors ended up losing 109-107 to the Bulls though.