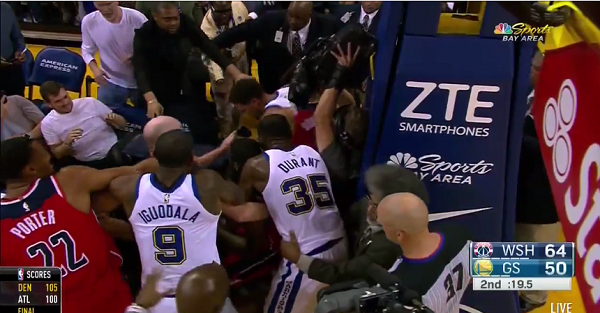 mattclapp/Clippit
mattclapp/Clippit
The Golden State Warriors faced the Washington Wizards Friday night and got the 120-117 win, but not without a real fight. Warriors forward Draymond Green and Wizards guard Brad Beal got into a fight after a rebound and took it to the baseline in what turned out to be a mosh pit.
This replay shows that it might have been Green who instigated the fight with an elbow swing near Beal's face on the rebound:
Green's jersey was completely ripped up and it looks like Beal might have won this fight, but both of them lost the war as there will likely be a suspension coming for both of them.
The Warriors are 4-2 with a game against the Pistons on Sunday while the Wizards are 3-2 with a game coming up on Sunday at the Kings.