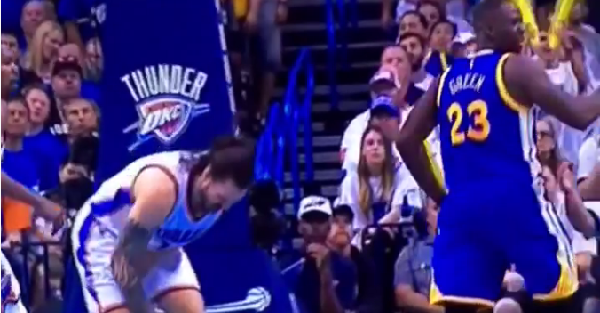 Draymond Green has earned a reputation as a trash talker and a bit of a dirty player. That reputation has grown in this year's playoffs with his boisterous attitude and yelling at referees. He won't have anything to yell at them now after he completely got away with ninja kicking Oklahoma City Thunder center Steven Adams right in the kiwis.
RELATED: Draymond Green talks about how no one can talk trash to Tim Duncan
That might be the most vicious kick to the groin I have ever witnessed. Adams was able to stay in the game because apparently he has testicles of steel and is more man than any of us can ever hope to be. Somehow, Green was only assessed a flagrant 1 foul and was still in the game as well.
That cheap move motivated the Thunder to take a staggering 72-47 lead into halftime. Adams and his family jewels are probably feeling just fine now.