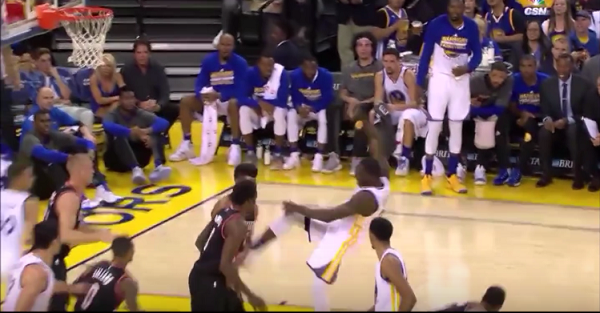 YouTube/Dan Feldman
The Golden State Warriors faced off against the Portland Trail Blazers in a preseason game on Friday night and things got a little chippy despite the fact the game really doesn't mean anything. Warriors forward Draymond Green is finding himself in some hot water again as it appeared he went after Allen Crabbe's nether regions.
RELATED: Did Draymond Green get away with yet another vicious kick in Game 7?
Over the course of the entire playoffs, that's all everyone was talking about as he seemed to be taking shots at every opponent he faced. The league has taken notice now and is going to do everything in its power to shut it down according to Joe Borgia who is the head of referee operations. Here's what he said on about it:
"Now all of a sudden legs are coming out in different directions at weird times, they're coming higher," he said. "Well, for the protection of the players, we're going to stop it."
Fortunately, Green didn't make contact with Crabbe because he actually kicked too high, but that's just not even close to being accidental at this point. Be better, Draymond.
[h/t CBSSports.com]