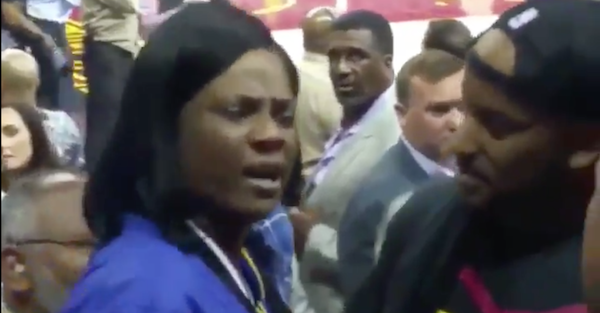 Twitter Screen Shot
The Golden State Warriors' intense comeback, 118-113 win over the Cleveland Cavaliers in Game 3 was an instant classic, and the intensity apparently spilled into the stands following the game.
Warriors forward Draymond Green's mother, Mary Babers, was involved in an altercation with a Cavs fan after the game that led to pushing and shoving.
The altercation continued to escalate, and security had to get involved. Babers had to be restrained during the altercation, and she can be seen speaking to security.
Related: Did Ric Flair, a notorious LeBron James fan, break his hand punching a Warriors fan?
Babers tweeted about the incident following the game, and she said people apologized to her after the altercation.
Draymond Green had eight points, seven rebounds and seven assists in the win. The Warriors can pull off the sweep and the first 16-0 postseason run in NBA history with a win in Cleveland on Friday.
(h/t 247Sports)