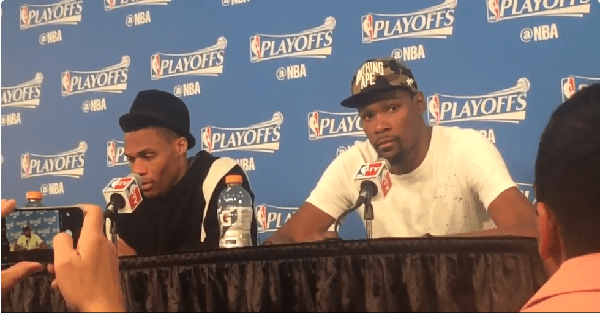 RELATED: Here's why Russell Westbrook got fined $25K
_______________________________________________________________________________________________________________
Dallas Mavericks owner Mark Cuban made the classic mistake of opening his mouth and saying something incredibly stupid. He's not new to this, but he might be new to people calling him an idiot in postgame press conferences. That's exactly what Kevin Durant did to defend his good friend and point guard, Russell Westbrook.
Before Game 5 against the Mavericks, Mark Cuban said that Durant was the only superstar on the team. Westbrook didn't take too kindly to that and threw up a stat line of 36 points, 12 boards, and nine assists. Then Durant spit some fire Cuban's way after the game too.
https://twitter.com/SneakerReporter/status/724802856922963968/video/1
Good thing there wasn't another game in Dallas or those fans would have lost their minds. I imagine their next opponents won't give them any inspiration like that considering it's the Spurs who are some of the quieter guys in the league.