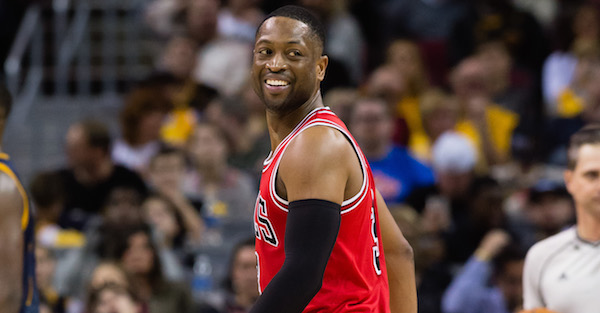 Jason Miller/Getty Images
CLEVELAND, OH - FEBRUARY 25: Dwyane Wade #3 of the Chicago Bulls reacts after scoring during the first half against the Cleveland Cavaliers at Quicken Loans Arena on February 25, 2017 in Cleveland, Ohio. NOTE TO USER: User expressly acknowledges and agrees that, by downloading and/or using this photograph, user is consenting to the terms and conditions of the Getty Images License Agreement. (Photo by Jason Miller/Getty Images)
Few active NBA players have a championship pedigree like Dwyane Wade's.
The 35-year-old shooting guard won a title with Shaquille O'Neal and the Miami Heat before capturing two more rings when LeBron James joined Wade down in South Beach.
And now that Wade's hometown team, the Chicago Bulls, appear to be turning toward a rebuild, Wade is expected to have his contract bought out and hit the open market.
Upon that happening, many believe he'll opt to team back up with James in Cleveland for another shot at a championship. With Kyrie Irving now in Boston and Isaiah Thomas set to be the Cavaliers' point guard next season ? with some minutes going to Derrick Rose, too ? Wade could certainly provide some stability in Cleveland's backcourt and in its locker room.
But don't push all your chips to the Cavs just yet. Apparently, the Los Angeles Lakers and Miami Heat are two teams emerging as suitors for Wade once he is bought out, according Barry Jackson of the Miami Herald.
"Though ESPN reported that LeBron James? camp expects Dwyane Wade to end up with Cleveland if he reaches a buyout with the Bulls, a Wade associate has been telling people that Miami and Los Angeles are also appealing destinations for Wade?

But the person who mentioned Miami and L.A. to me was the same person who first alerted me to my scoop a few years ago that Wade?s negotiations with the Heat were not going well ? the first time that information ever surfaced (and a year later, the sides divorced)," Jackson said.
When Wade left Miami, the two sides parted ways on ? let's say not the best of terms. And unless Wade is looking to call it quits soon and go out with an honorable return to the team that drafted him, it's hard to see him returning to the Heat right now.
It's equally as difficult to imagine him joining the Lakers.
Los Angeles appears to be headed in a bright, new direction now that Magic Johnson has taken the reins of the franchise's basketball operations staff. However, Wade would be joining a young, unproven team with a fight for a low playoff seed looming the minute he signs on the dotted line.
The only way a move to the Lakers would make sense would be if ? oh, I don't know ? maybe if Wade knew James would be joining him after this season. *casual side eye*
But, regardless of James' future plans, Wade would still have to endure a season with more downs than ups if he landed in L.A.
Signing with Cleveland would make much more sense.
[h/t NBC Sports]