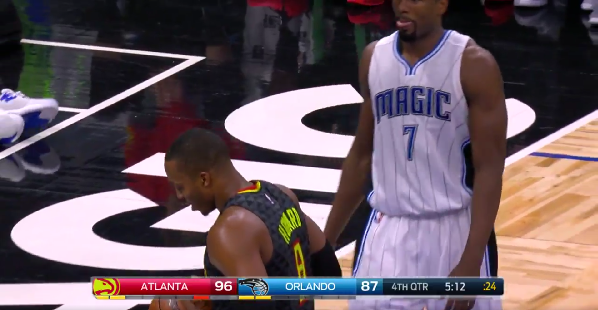 Twitter/@ATLHawks
Dwight Howard was back in his old stomping grounds of Orlando last night. After an incredible start to his career there Howard eventually wanted a new home and forced his way out via trade. The force out was ugly, and Magic fans are still very unhappy about what took place so they gave him the boo bird treatment. Never one to let himself get down about what the fans think Howard responded to the boos in the only way he knew how, by booing himself.
Related: Giannis Antetokounmpo sinks the gamewinner
It's been awhile since Howard was last in Orlando, but it's very clear that the feelings between the two sides have not yet healed through time and probably won't until well after his career is over. However, it's a little concerning to see Howard whispering sweet nothings into the ear of the basketball like that. Is the pressure of all these former teams he's played on beginning to get to him, or does he believe he has the ability to sweet talk the basketball? On second thought, let's not try to find the answer to that one.