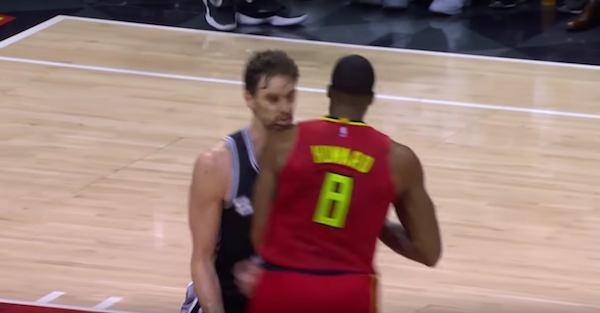 YouTube Screen Shot
Former Los Angeles Lakers teammates Dwight Howard and Pau Gasol had an unfortunate exchange during a recent meeting between the Atlanta Hawks and San Antonio Spurs.
Related: Watch Dwight Howard challenge a fan to a fight after Lakers game
After Gasol made a 3-pointer and ran to the other end of the floor for defense, Howard greeted him with a shoulder to the throat. Howard accused Gasol of flopping ? which he has been known to do in the past ? but Gasol pleaded his case.
Officials reviewed the foul, and they decided to call a common foul instead of a flagrant foul. It certainly could have been a flagrant foul, but with Gasol's reputation it's understandable why the officials thought he might've flopped.
(h/t NBC Sports)