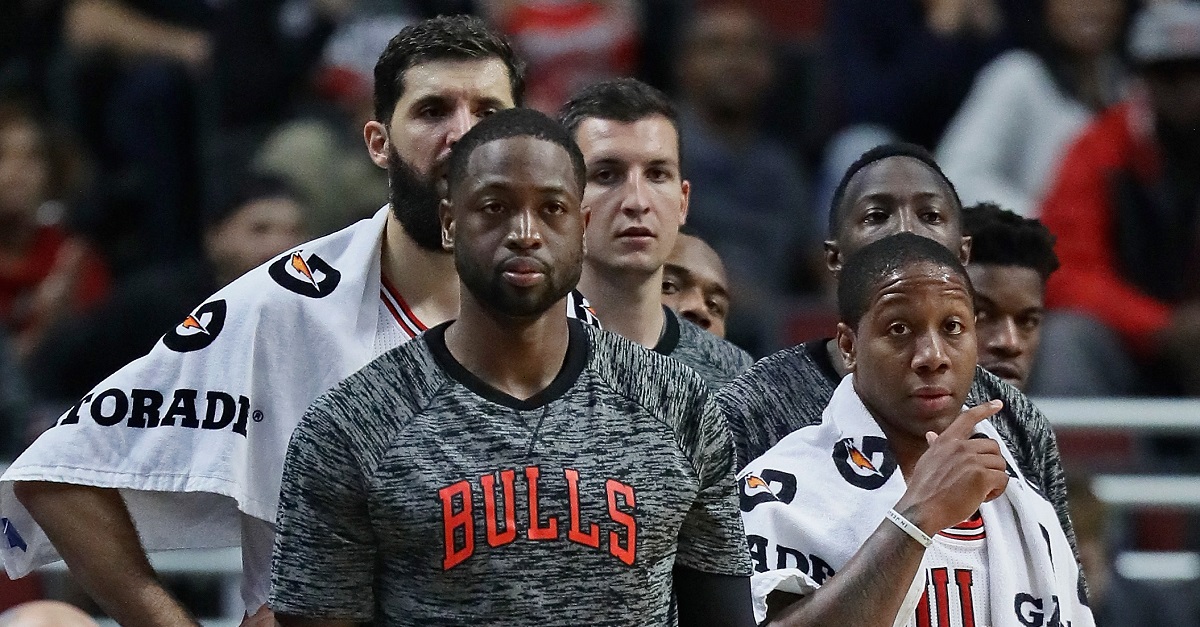 Jonathan Daniel/Getty Images
CHICAGO, IL - OCTOBER 03: Dwyane Wade #3 of the Chicago Bulls watches his teammates from the bench during the second half of a preseason gameagainst the Milwaukee Bucks at the United Center on October 3, 2016 in Chicago, Illinois. The Bucks defeated the Bulls 93-91. (Photo by Jonathan Daniel/Getty Images)
When former Miami HEAT guard Dwyane Wade was deciding on where to sign this offseason there were a few places rumored to be in the running. There were some who thought that he would reunite with LeBron James in Cleveland or try to lead a new group of young bloods in Milwaukee.
RELATED: Pat Riley admits mistake with letting D-Wade go
We all know how his decision turned out and he's donning the red of the Chicago Bulls this season. However, the rumors were true. At least the ones about Wade possibly going to Cleveland.
In an interview with SLAM's Leo Sepkowitz, Wade confirmed that Cleveland was an option, but said that he didn't like he'd fit there:
"For me, it's as simple as, I got a deal in Miami for $41 million, I got a deal in Chicago for $47 million," Wade says. "It didn't come down to the money. I thought about Cleveland, but I didn't fit there. You don't just do something because, Oh, I could win the ring there. I have three rings. I don't need to chase the ring. This is what I wanted to do. I couldn't fight it. If you fight it, you're gonna always be like, You shoulda, or, What could've–I don't like to live my life like that."
Wade grew up in Chicago and played near the area at Marquette so going back home makes a lot of sense. Basketball-wise he now gets to play with a good point guard in Rajon Rondo and really isn't competing with too many other guys for shots. Jimmy Butler is going to get his and Nikola Mirotic will need some shots, but Wade could be the alpha dog if he wants to be.
[h/t CBS Sports]