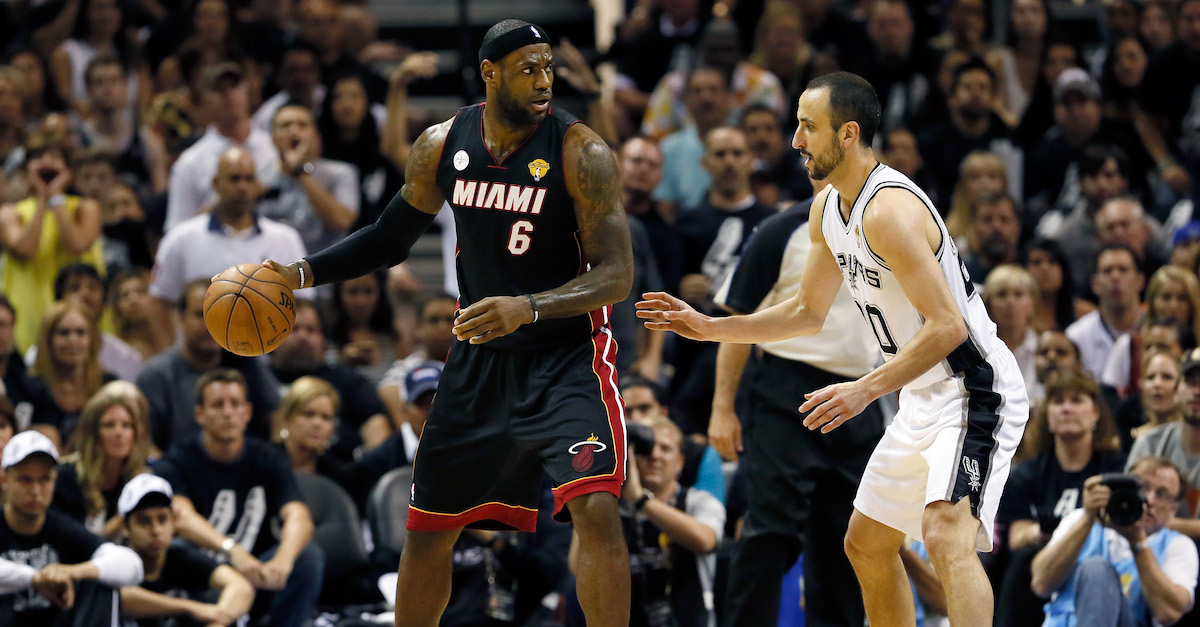 Kevin C. Cox/Getty Images
SAN ANTONIO, TX - JUNE 16: LeBron James #6 of the Miami Heat with the ball against Manu Ginobili #20 of the San Antonio Spurs in the first quarter during Game Five of the 2013 NBA Finals at the AT&T Center on June 16, 2013 in San Antonio, Texas. NOTE TO USER: User expressly acknowledges and agrees that, by downloading and or using this photograph, User is consenting to the terms and conditions of the Getty Images License Agreement. (Photo by Kevin C. Cox/Getty Images)
Eddie House, a former teammate of LeBron James during his stint with the Miami Heat, downplayed the notion of James as the "greatest basketball player of all-time" during an appearance on FS1's Undisputed this week.
During the debate, House argued that it was "ridiculous" for anyone to believe "The King" could replace Michael Jordan as the greatest player in NBA history, specifically because he "quit" on his team during the 2011 NBA Finals.
"I can't get over the fact that he didn't show up in Dallas, not only because I was on the team, but the fact that he was the best player and everyone was depending on him to show up and do what he does and he was M.I.A.," House said of James. "He had a bad series. Jordan never had that. People kill James Harden for having a bad series last year, right? 'Oh no, he ain't as good as he is.' But you're going to say somebody that quit in the Finals, at the end of everything with all the marbles on the table, that you're going to say that he's the greatest of all-time? I can't buy it."
House, of course, is referring to James' first season in Miami, which included a series loss to the Mavericks in six games. The Heat, however, would win the next two consecutive NBA Championships, as well as the Eastern Conference title during the forward's entire run with the team.
Though Jordan still has a 6-3 advantage over James in league titles, it's worth noting that the King has led his teams to the Finals during each of the last seven consecutive seasons, which itself is remarkable.
But there will always be passionate arguments to both sides of this debate and it's unlikely we'll ever reach a consensus agreement no matter what James accomplishes.