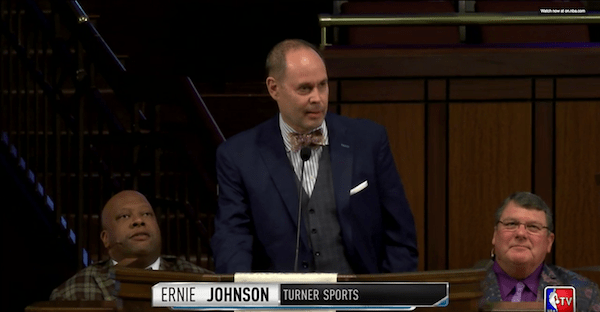 NBA TV Screen Shot
Craig Sager's death was devastating for anyone familiar with him and his work, and it's easy to see the impact he had on everyone around him.
Related: This was the heartbreaking moment ESPN reported Craig Sager's death 
During his memorial service, Ernie Johnson — who was a co-worker with Sager at Turner Sports for several years — gave a touching memorial speech about Sager's life and the impact he had on the sports world. Like Sager — who died after a battle with lukemia — Johnson had a cancer battle of his own but beat non-Hodgkins lymphoma. Johnson even read a poem he wrote for Sager that spanned Sager's life and career.
It was a touching tribute to a special person who had a positive influence on sports and everyone he worked with over the years. It's obvious how much Sager meant to his family, coworkers, NBA players, coaches and fans, and tributes to him have been incredible to watch.
(h/t Sports Illustrated)