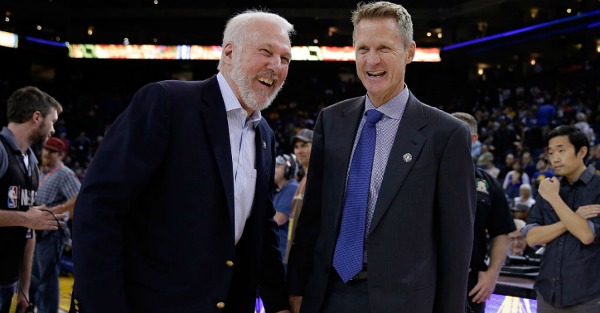 Ezra Shaw/Getty Images
at ORACLE Arena on November 11, 2014 in Oakland, California. NOTE TO USER: User expressly acknowledges and agrees that, by downloading and or using this photograph, User is consenting to the terms and conditions of the Getty Images License Agreement. Ezra Shaw/Getty Images
Steve Kerr, the coach of the Golden State Warriors, is expected to miss the rest of the series against the Portland Trail Blazers with an undisclosed illness that sounds frightening.
The San Jose Mercury News reported that on Saturday, Kerr was in such excruciating pain he couldn?t walk. The News, citing sources, said Kerr hasn?t felt well all series and this instance was particularly ?scary? because Kerr had not felt that way before. The Warriors are working to find out what?s wrong with Kerr.
Kerr has had health problems in the past. He missed the first 43 games of the 2015 season due to a spinal fluid leak that was a complications from back surgery.
The Warriors lead the Trail Blazers 3-0 in the first round of the NBA playoffs.