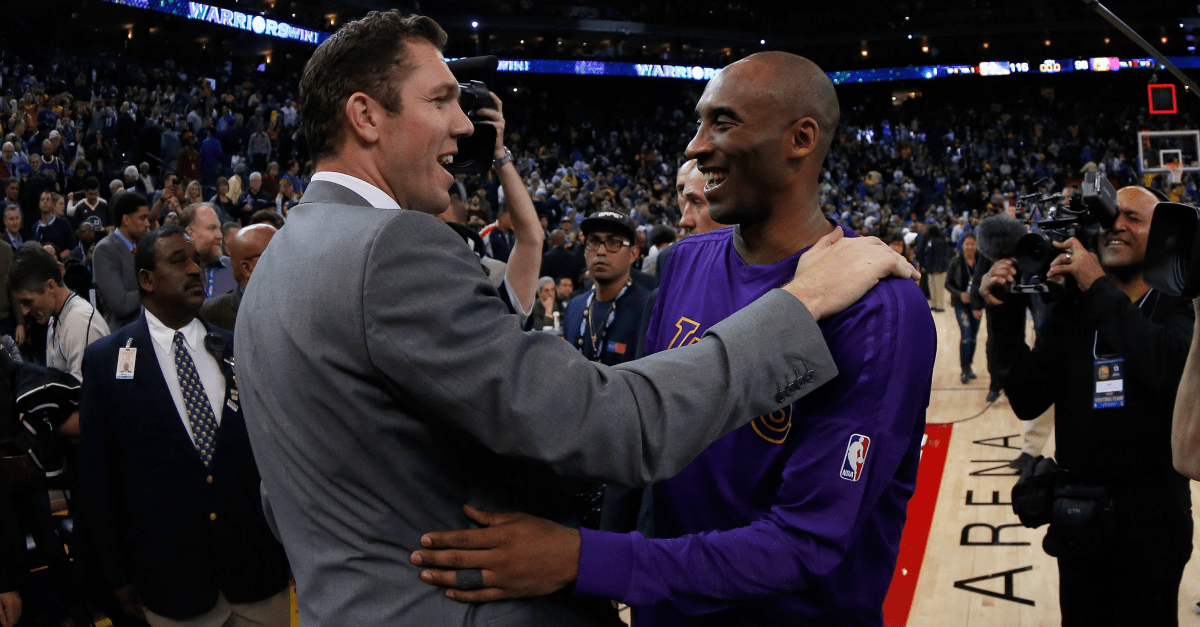 The Los Angeles Lakers and Luke Walton have agreed to a deal that will bring Walton back to where his NBA career started, Los Angeles. He was drafted in the second round by the team in 2003 and spent a decade there as a player winning two championships in 2009 and 2010. The Lakers finally booted Byron Scott after two terrible seasons and so now it's time for some fresh blood to enter the locker room.
Walton has been an assistant coach with the Warriors the past two seasons and has been an integral part of the coaching staff as he took over for head coach Steve Kerr for about half the season after he suffered some serious back issues. Walton even made some cool history on his way to a 39-4 record as the "head coach."
The following are five reasons why Walton would make a good coach for the Lakers next season and going forward:
1. Knows what a championship team looks like – Working with the Warriors has shown him what it takes to win a championship as the team was able to pull off the feat under then-first year coach Kerr. Sure there were the major pieces in place already in Steph Curry, Draymond Green, Klay Thompson and other players knowing their roles. But that's just one more useful piece of information he can bring to L.A.
2. He can relate to his players – The Lakers are an incredibly young group of guys and are likely to get even younger with the departure of Kobe Bryant and likely trade of Nick Young after the D'Angelo Russell debacle. The oldest guy leftover after that is likely gone — making the assumption 15-year veteran Metta World Peace either retires or isn't brought back — and that leaves a ton of current first and second-year guys. Walton is still a young coach at age 36 — and will actually be the youngest in the league when he takes over at the end of the Warriors' season — and should be able to find a way to motivate these young guys despite them never having tasted success…yet.
3. Knows how to manage talent – This might be the trickiest part of coaching and that's knowing how to not only use the talent on the team, but how to make certain guys mesh with one another. He did that with the Warriors and was even able to get Curry out of games early to rest him up for a playoff run because of it. It's probably too early to be thinking about rest like that for Russell, Larry Nance Jr., Jordan Clarkson and Julius Randle, but he should be able to get them to play well together and cobble together more than the 17 wins they ended up with this season.
4. He's already familiar with the organization – Obviously Walton played in Los Angeles, but he was also a player development coach for the NBADL-affiliated team, the L.A. D-Fenders. He knows how the Lakers like to work from lower level to the pros and is friendly with the Buss family. That should help give him some input on players he would like in the NBA Draft and give him a little more personnel control than normal coaches might have in this league.
5. The chance to grow with a team – This feeds a little bit into reason #2, but having the opportunity to bring a team from mega underdogs to playoff contender is something special and not all too common in this league. More often than not another coach is brought in right when the team is ready to get to the playoffs and then another for extended playoff runs. Walton will be given time to mold and build this team the way he sees fit and that should get Lakers fans excited because there hasn't been that kind of commitment since Phil Jackson was coaching the team. 1:40]