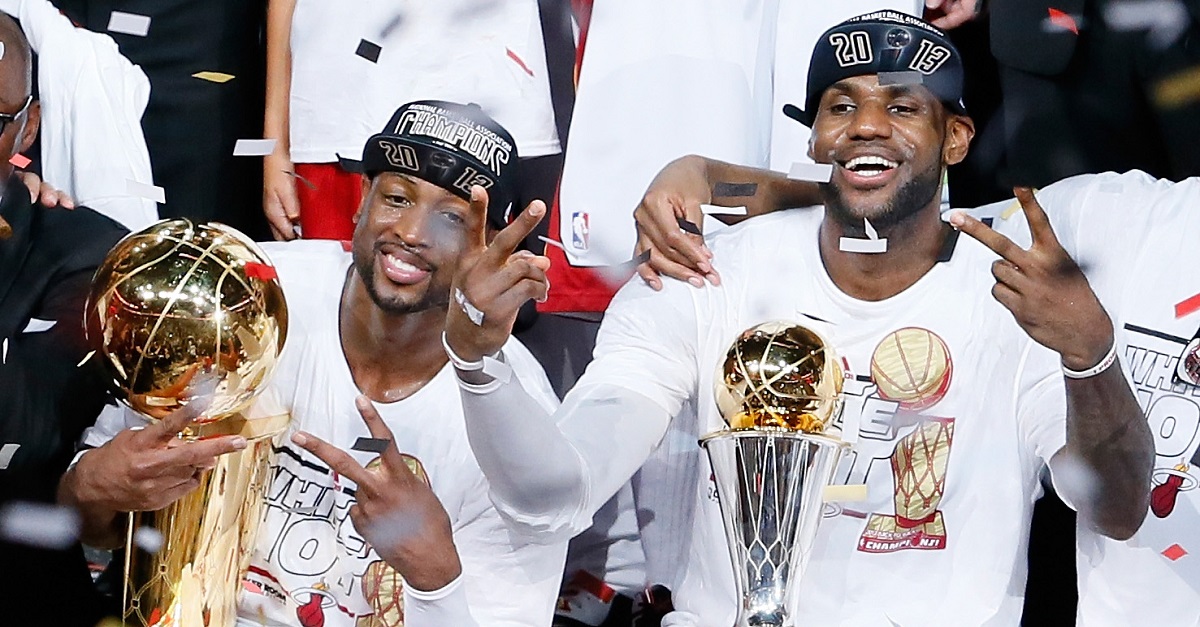 Kevin C. Cox/Getty Images
MIAMI, FL - JUNE 20: Dwyane Wade #3 and LeBron James #6 celebrate after defeating the San Antonio Spurs 95-88 to win Game Seven of the 2013 NBA Finals at AmericanAirlines Arena on June 20, 2013 in Miami, Florida. NOTE TO USER: User expressly acknowledges and agrees that, by downloading and or using this photograph, User is consenting to the terms and conditions of the Getty Images License Agreement. (Photo by Kevin C. Cox/Getty Images)
The Chicago Bulls were not one of the better playoff teams as they needed some help to get into the postseason on the last day of the regular season. They got the eighth seed thanks to some key losses and wins elsewhere to give them the tiebreaker over the Miami Heat and Indiana Pacers. That probably didn't sit well with NBA Finals veteran and champ Dwyane Wade.
RELATED: Dwyane Wade almost joined a super team, but say he 'didn't fit there'
Most people believed he would opt out of his contract with the Bulls this offseason in hopes of latching on to a title contending team. However, it seems that he wants the payday or even believes that the team could be great with some additions this offseason. This is from K.C. Johnson of the Chicago Tribune who answered a mailbag question asking if Wade would be back:
"Well, it's $23.8 million, as mentioned above. But you're on it. And all I can tell you is most everyone associated with the Bulls believes Wade will pick up the option and remain in Chicago for a second season. More surprising things have happened in league history, though. So stay tuned. Wade's player option decision is due by June 27 according to The Vertical's Bobby Marks. Most previous reporting pegged it to June 30."
Wade already has three rings so going after the payday makes a little more sense than trying to find a big contract elsewhere since no one would want to sign the 35-year old for that kind of money this year.
[h/t CBS Sports]